Our Office Tried This Whipped Night Cream for a Week—and Here's What We Thought
DISCLAIMER
This blog has not been approved by your local health department and is not intended to provide diagnosis, treatment, or medical advice. Read More

This blog has not been approved by your local health department and is not intended to provide diagnosis, treatment, or medical advice. The content provided on this blog is for informational purposes only. Please consult with a physician or other healthcare professional regarding any medical or health-related diagnosis or treatment options. Information on this blog should not be considered as a substitute for advice from a healthcare professional. The claims made about specific products throughout this blog are not approved to diagnose, treat, cure, or prevent disease.
In this article: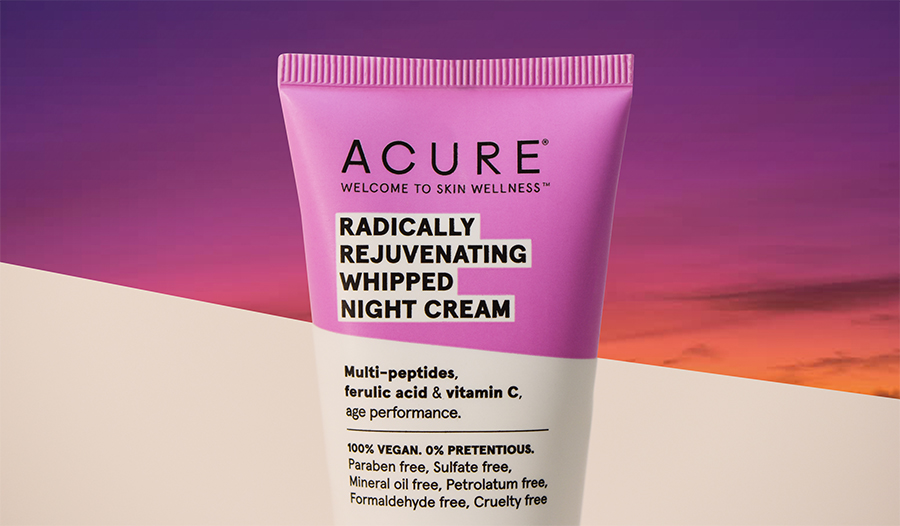 With so many moisturizing creams on the market, it's hard to know what to pick or what you need for your skin. There are products like day creams, night creams, water creams, emulsions, lotions, sleeping packs… the list goes on. Ingredients like retinol, vitamin C, peptides, hyaluronic acid, green tea, and honey all have their benefits but what is the best mix for your skin and will it be effective?
To help our readers out, we asked five iHerb Beauty staffers to abandon their usual night cream and give a new one a try for a minimum of seven days. It wasn't too hard a sell, as it has a 4.5 star average for customer reviews.
So, did we convert anyone? Keep reading to find out.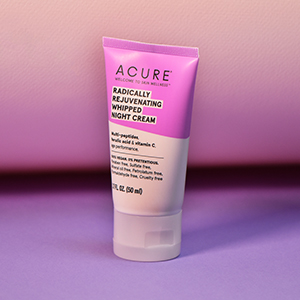 What it is: A lightweight whipped superfood cream with multi-peptides, vitamin C, ferulic acid, and glacial glycoproteins to soothe and hydrate. Considered a dupe for a popular polypeptide cream on the market, the Acure version is about ¼ the cost and has similar ingredients.
How to use it: After cleansing and toning at night, apply a small amount to the face in upward strokes.
The Reviews
Daiana K., Beauty Social Media Manager
Skin type: Combination with mild rosacea
I tend to lean towards skincare products with active ingredients that provide long-lasting hydration. The Acure Radically Rejuvenating Whipped Night Cream is a popular dupe for a more expensive product on the market, so first of all, I was excited to see if it would actually work.
After the first week of use in my nightly skincare routine, I saw visible results. My skin had a brighter, more glowing complexion. I noticed that my skin was hydrated for longer periods of time and the glow lasted, even through my makeup.
There wasn't a noticeable smell to the product and the texture felt heavy when applied, but absorbed quickly without leaving a sticky residue. I would ideally use it 3-4 times a week if my skin showed signs of dullness/dryness and 2-3 times a week if my skin was producing more oils, especially in the summer. During and after testing, there were no signs of breakouts, irritation, or redness, which was a plus for me.
The verdict: I definitely would rate this product 4.5/5 and will continue to use it in my skincare routine.
Fatima A., Production Designer
Skin type: Combination with anti-aging focus
I recently tried Acure's Radically Rejuvenating Whipped Night Cream for a week straight and have been very impressed with the results! Prior to this product, I was using another cream that is similar in terms of ingredients and was happy with it, which meant this cream had some large shoes to fill.
My first impression was that the smell wasn't bad but not great either, and because of its thicker consistency it might be more suitable as a fall and winter cream. I was also afraid that it would cause me to break out a bit due to its heavier texture, but thankfully that did not happen at all.
My skin is soft, smooth, clear and plump! I even replaced my previous day cream with it so that its benefits continue around the clock, not just at night.
The verdict: This cream definitely performs just as good as the one I was using before it and the cheaper price point makes it an even greater steal. I will definitely continue to use it and highly recommend it!
Erica S., Rewards Marketing Manager
Skin type: Combination, with dry cheek areas and a slightly oily T-zone
With a dry climate in SoCal, what I am looking for in a night moisturizer is something that quenches my skin while being lightweight in texture and restores the bounce and glow in my skin's appearance. I have tried the Acure Whipped Night Cream for 5 days.
When applying, I immediately noticed the scent and thicker texture the cream had. The scent was unpleasant and a bit strong and uninviting. The thicker consistency didn't make it feel like it was whipped, and made it feel too thick and heavy for the spring and summer months. I think it would be great for colder weather. Surprisingly, it spread out nicely with just a small amount. The moisturizer did leave a sticky residue feeling and took awhile to finally dry up. In the morning, though, my skin was left soft, nourished and moisturized with a youthful glow.
After a few days of use, my skin did break out with a few acne spots on my cheek, which I rarely get. I am not sure if it's from the thicker consistency of the product or not.
The verdict: I would continue to use this cream but I would integrate it into my skincare routine for every other night, as opposed to nightly use. I would also save it for the winter months and switch it out for my more lightweight moisturizer during the hot summer months. The price makes it a great dupe to some of the expensive moisturizers out there at just a fraction of the price.
Jeanette C., Co-Op Campaign Manager
Skin type: Dry skin with eczema
I have always been averse to trying out new creams in fear of breakouts or skin dry-out but surprisingly, this product fit perfectly into my nighttime regime.
My first impression was the smell, which was not so impressive, but upon applying the product to my face, I really liked the thick application. It is similar in texture to a more expensive whipped moisturizer I use. I was happy to find that it kept my skin thoroughly moisturized throughout the night and I'd wake up with my skin glowing. After a few days, I didn't even notice the smell anymore.
The verdict: Overall, I was happy with this product and am considering finding other replacements to my usual skincare products with Acure. I know my wallet will be happy, too!
Chloe C., Influencer Manager
Skin type: Combination/dry
I often get dry around my cheeks, forehead, and sometimes around my nose. I'm also quite fair, and have some rosacea in my cheeks.
My current beauty routine is Peter Thomas Roth Anti-Aging Cleanser, Kiehl's Glow Formula Skin Hydrator, and then First Aid Ultra Repair Cream. I discovered First Aid Repair Cream only in the last year and it's been a game-changer for me in my nightly routine. It's not greasy to the touch and feels like it's really sinking in and truly moisturizing those dry areas.
I was really excited to try this product because I'd heard that it's a dupe for a popular, more expensive product on the market. I really liked the thickness of this cream—it felt substantial in a good way. I like how it went on and it didn't feel greasy. I put it on those particularly dry spots and the first few days it moisturized them really well and I was thrilled, but then it really took a turn.
After a few days, those spots became even more dry than they were before. I gave the product the benefit of the doubt, because perhaps my skin was just having an off couple of weeks, but I finally stopped using it in the last couple of days because my skin was so dry and flaky.
The verdict: Since stopping usage, my skin has resumed back to normal, so I can't help but think it was because of the product. All that to say, I didn't really like it and wouldn't use it again.
Final Thoughts
Overall, most iHerb Beauty staffers liked Acure Radically Rejuvenating Whipped Night Cream, though some felt it was better suited to cold weather months and some with more sensitive skin didn't think it was a great fit.
Have you tried this product? If so, leave a review and let us know what you think!