3 Healthy Breakfast Smoothie Bowl Recipes
DISCLAIMER
This blog does not intend to provide diagnosis... Read More

This blog does not intend to provide diagnosis, treatment, or medical advice. Read more. The content provided on this blog is for informational purposes only. Please consult with a physician or other healthcare professional regarding any medical or health-related diagnosis or treatment options. Information on this blog should not be considered as a substitute for advice from a healthcare professional. The claims made about specific products throughout this blog are not approved to diagnose, treat, cure, or prevent disease.
In this article: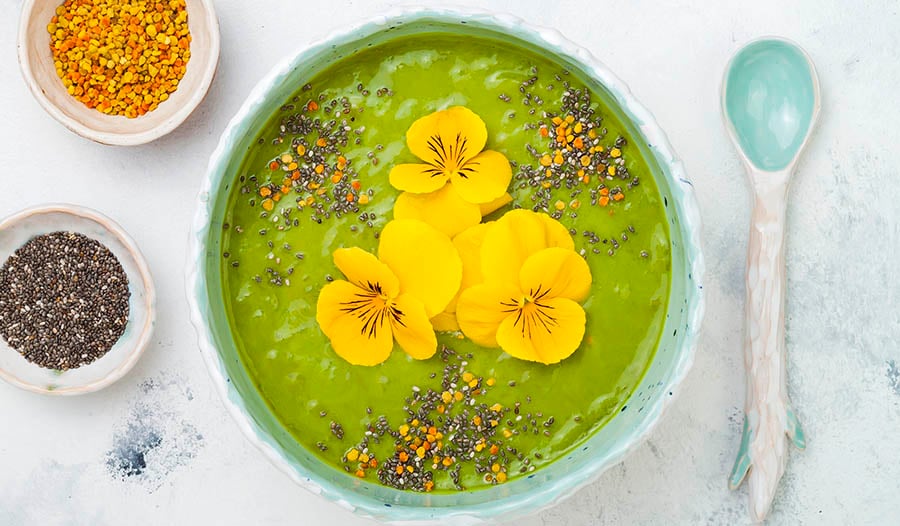 Start the day with one of these smoothie bowls.
Breakfast is an essential meal and vital component of good nutrition. Eating breakfast within an hour after waking up every morning immediately kick-starts the metabolism, helping to burn calories all day, and raises the body's energy levels.
The morning meal helps restore blood glucose levels to normal after a person sleeps, and it might lower a person's risk of getting type 2 diabetes. Making sure to have breakfast first thing in the morning is also the key to overeating throughout the rest of the day. This is because after breakfast the gut releases several hormones that work to control appetite.
A healthy breakfast, combined with healthy, well-rounded meals throughout the whole day, has been shown to decrease a person's overall body mass and keep the body at a balanced ratio of fat to muscle.
Despite its many benefits, just eating breakfast is not sufficient enough to keep the body at optimal energy levels. Healthy choices are the way to go so that the body has a good head start for breaking down blood sugar and keeping appetite under control.
Breakfast smoothie bowls are a perfectly nutritious meal to start the day off right. Choosing the right ingredients to put in a smoothie bowl involves selecting the right mix of protein, vitamins and minerals, healthy carbohydrates and other key nutrients. These three healthy smoothie breakfast bowl recipes will give the body the nutritional morning boost it deserves.
Acai Breakfast Smoothie Bowl
How about a delicious acai smoothie bowl recipe? First, there's acai which is high in antioxidants, fiber and heart-healthy fats. Plain, nonfat Greek yogurt is a great addition because it which contains a lot of vitamins and minerals plus it has a healthy dose of omega-3 fatty acids which are good for the heart.
Raspberries are packed with organic, healthy fats, antioxidants, vitamins and fiber while chia seeds are very low in calories and deliver high amounts of nutrients. These little black seeds provide hours of energy with their high levels of protein, omega-3, fiber, calcium, manganese, magnesium and more.
Bananas are known for their high potassium levels and have even higher concentrations of vitamin B6, copper, vitamin C and manganese. They also have high quantities of magnesium, fiber and protein.
Ingredients:
3/4 cup of nonfat, plain Greek yogurt

1 oz. of

acai powder

1/2 cup of raspberries

1/4 cup of coconut water or milk

2 tablespoons blueberries

1/2 banana

3/4 cup

granola

1 tsp.

chia seeds

1 tsp.

bee pollen
Instructions:
Combine yogurt, bee pollen, coconut milk or water, acai powder and banana into blender.

Puree until smooth.

Pour into bowl.

Top with blueberries, raspberries, granola and chia seeds.
Makes one serving.
Matcha Tea Breakfast Smoothie Bowl
This energizing breakfast smoothie bowl is wonderful for enhancing a person's mood. Matcha tea, with all its antioxidants and vitamins and minerals, has been shown to improve concentration, prevent disease and help to lower bad cholesterol and blood sugar.
Flax seeds have been shown in a few studies to possibly lower the risk of heart disease and diabetes. Pumpkin seeds are a great source of minerals, such as zinc, manganese, phosphorus, iron, magnesium, copper and protein.
Bee pollen, which is made by honeybees, is a superfood that often does not get as much attention as the others. It contains almost all of the key nutrients required by the human body to thrive, including a high amount of protein, amino acids, B-complex vitamins and folic acid. Kiwis are a good source of vitamin c, dietary fiber and folate; they aid in digestion, and can help provide a glowing, beautiful skin complexion.
Ingredients:
Instructions:
Combine matcha powder, coconut milk or water and bee pollen into a blender.

Blend until smooth.

Pour into bowl.

Top with chia seeds, pumpkin seeds, flax seeds, granola, coconut flakes, kiwi and blueberries.
Makes one serving.
Chocolate Peanut Butter Breakfast Smoothie Bowl
This smoothie bowl is decadent because it contains chocolate, but it is also nutritious! Cacao has been shown in studies to enhance memory and clarity of mind while peanuts have plenty of protein and potassium, which lowers the risk of high blood pressure.
Coconut water and milk, which are high in potassium and a perfect way to stay hydrated, are a tasty, healthy alternative to plain water or almond milk. If a person is not sure which to choose between coconut milk or coconut water, the only significant difference between the two is that coconut milk is higher in saturated fat content.
Although saturated fats are usually seen as being unhealthy, they are made up of medium chain triglycerides, which, in moderation, are good for the heart and brain. They contain the good kind of cholesterol, which is HDL cholesterol. Coconut milk will also result in a slightly thicker smoothie than coconut water.
Ingredients:
Instructions:
Combine banana, cacao powder, coconut water or milk, and peanuts into a blender.

Blend until smooth.

Pour into bowl.

Top with coconut flakes and cacao nibs.
Makes one serving.