Create the Ultimate Nutritious and Appetizing Snack Platter
DISCLAIMER
This blog does not intend to provide diagnosis... Read More

This blog does not intend to provide diagnosis, treatment, or medical advice. Read more. The content provided on this blog is for informational purposes only. Please consult with a physician or other healthcare professional regarding any medical or health-related diagnosis or treatment options. Information on this blog should not be considered as a substitute for advice from a healthcare professional. The claims made about specific products throughout this blog are not approved to diagnose, treat, cure, or prevent disease.
In this article: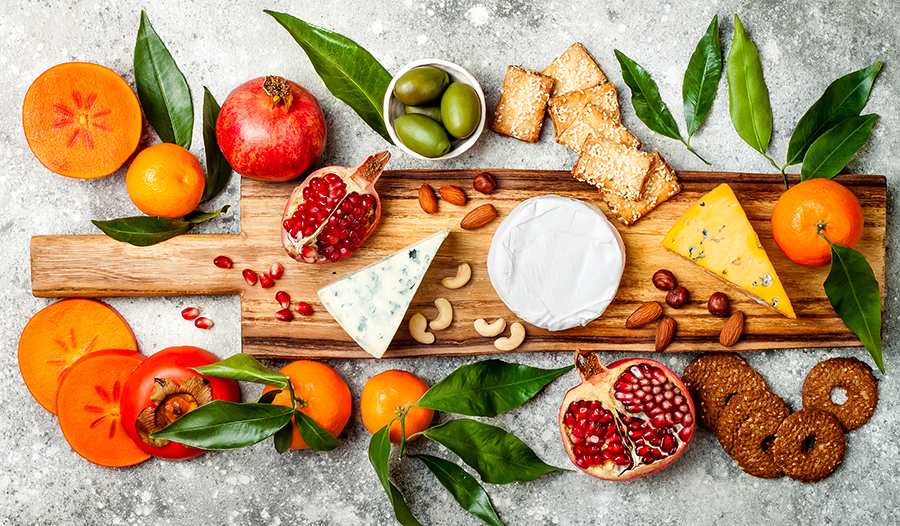 Creating a healthy snack does not have to feel tedious or overwhelming, especially with the right ingredients on hand. Creating a nutritious and appetizing snack platter is a surefire way to bring guests and loved ones together for any event or gathering.
What Is a Snack Platter?
A snack platter typically contains several different appetizers brought together on one plate. Creating an elegant, appealing and delicious snack platter is easy once one is familiar with healthy alternatives to the most commonly used food items and ingredients.
Follow these easy steps to craft the perfect satisfying snack platter!
Choosing a Healthy Cheese
Choosing the right cheese while still presenting a healthy snack can be tricky, especially with the wide range of cheese types available in most supermarkets today. Some cheese can be high in calories and fat. Try some of these popular healthier options:
Gruyère – Gruyère is a cheese that is low in sodium.
Skim (part-skim) mozzarella – Mozzarella is typically low in fat, making it less dense. Consider a fresh mozzarella ball to encourage serious cheese lovers and connoisseurs to indulge.
Goat cheese – Goat cheese is lower in fat than many popular cheese options and provides a creamy alternative to hard cheeses that are difficult to spread. Additionally, goat cheese is extremely flavorful and often features a variety of herbs and spices.
Swiss – Swiss cheese is packed with calcium and includes major protein with at least 8 grams per ounce of cheese (depending on the brand and the age of the cheese).
For vegan or dairy free cheese options make these easy and healthy vegan cheese recipes for your platter!
Add Some Texture With Crackers
Choosing a cracker with the right texture and flavor is an essential part of the process when it comes to putting all of the ingredients together.
When seeking the best cracker choice for an appetizer platter, make sure to read the ingredients that are used to make the crackers. Steer clear from overly processed crackers or ones containing gluten as gluten allergies or sensitivities are common. If the snack platter contains cheese, olives, honey and meat snacks, consider serving crackers that are:
Thin: Choose a thinner cracker to minimize caloric intake while still providing a crunch.
Gluten free: Gluten-free cracker options are ideal when serving a platter to guests with allergies or nutritional sensitivities.
Baked: Baked crackers are available in a variety of flavors while also remaining low in calories. Always read and compare nutritional labels before choosing ingredients for the platter being crafted.
Made from sesame seeds: Add a unique twist to any serving platter with thin sesame seed crackers. They pair well with meat, cheese and even vegetable dip.
Compliment Flavors With Olives
Kalamata, black and traditional green olives blend perfectly with the combination of crackers, cheese, nuts and other vegetables or fruits included in the platter. Olives are optimally paired with spreadable cheeses, including goat cheese, providing a salty finish with every bite.
Balance It Out With Fruits and Vegetables
No ultimate healthy snack platter is complete without the addition of fruits and vegetables. Fruits and vegetables are extremely versatile, low in the glycemic index and provide a wide range of flavors that work with a myriad of foods and ingredients. When creating an appetizer platter that is packed with nuts, seeds, olives, crackers and cheese, consider including:
Strawberries – Pairs perfectly with creamy cheeses and fruity, lightweight wines.
Blackberries/Blueberries/Raspberries – Smaller, darker berries are packed with antioxidants without adding a massive number of calories into any diet.
Kiwi – Kiwi packs a tangy punch and is perfect after indulging in creamy cheese or sweet honey and crackers.
Grapes – Grapes are perfect for platters that also include wine on the side or an array of cheeses and crackers.
Apples – While apples may not seem traditional in a snack platter, they provide those who have a sweet tooth with a solution, especially when dipped in all-natural honey.
Celery – Celery works well for those who are interested in staying healthy but prefer a calorie-free crunch to go with the cheese being served.
Carrots – Carrots are another great vegetable addition for those who enjoy pairing the crunch of carrots with flavorful cheese and olives.
Bell peppers – Bell peppers are ideal for guests who are interested in unique flavors, especially when combined with a variety of cheese.
Boost Nutrition With Nut and Seeds
Don't forget about including nuts and seeds in an appetizing snack platter. Nuts and seeds provide an array of vitamins and nutrients without contributing bad fat to any diet. Nuts are not only delicious, but they are also packed with good fat for the body, allowing those enjoying them to feel fuller and more satisfied for longer. Nuts and seeds often pair well with both fruit and cheese depending on the specific flavor palate that is being presented.Some of the most common types of nuts and seeds to consider incorporating in a snack platter include:
Almonds: Almonds are packed with good fat and fiber while pairing well with cheese, wine and olives.
Macadamia nuts: Macadamia nuts provide plenty of healthy fat with a balanced flavor that compliments just about any common food used to create an ultimate snack platter.
Pumpkin seeds (pepitas, or the inside of a classic pumpkin seed without the shell)
Add The Ultimate Condiment: Honey
Including raw and all-natural honey is a great way to strike the perfect balance of flavors while adding antioxidants and more healthful benefits. Seek out honey or natural preservatives that work well with the type of meat, olives, crackers and cheese that is being included in the appetizer. Manuka honey is especially known for having an array of health benefits - read more on the health benefits of manuka honey here.
Include Meat and Jerky For Added Protein
Providing guests with a bit of additional protein in the ultimate snack platter is a must. Protein from meat and jerky can help those enjoying the platter to stay full longer, preventing overindulgence or the inability to feel satisfied. Consider the type of cheese being utilized within the platter before settling on meats that are the most fitting and appropriate.
Look for jerky that does not contain preservatives and has been crafted using only whole ingredients, herbs and spices. Some of the best types of meats and jerky to use with the ultimate snack platter include:
Cured salami
Prosciutto
Venison jerky
Beef jerky
Summer sausage
Beef stick bites