Detox for Spring with Delicious Drink Recipes
DISCLAIMER
This blog does not intend to provide diagnosis... Read More

This blog does not intend to provide diagnosis, treatment, or medical advice. Read more. The content provided on this blog is for informational purposes only. Please consult with a physician or other healthcare professional regarding any medical or health-related diagnosis or treatment options. Information on this blog should not be considered as a substitute for advice from a healthcare professional. The claims made about specific products throughout this blog are not approved to diagnose, treat, cure, or prevent disease.
In this article: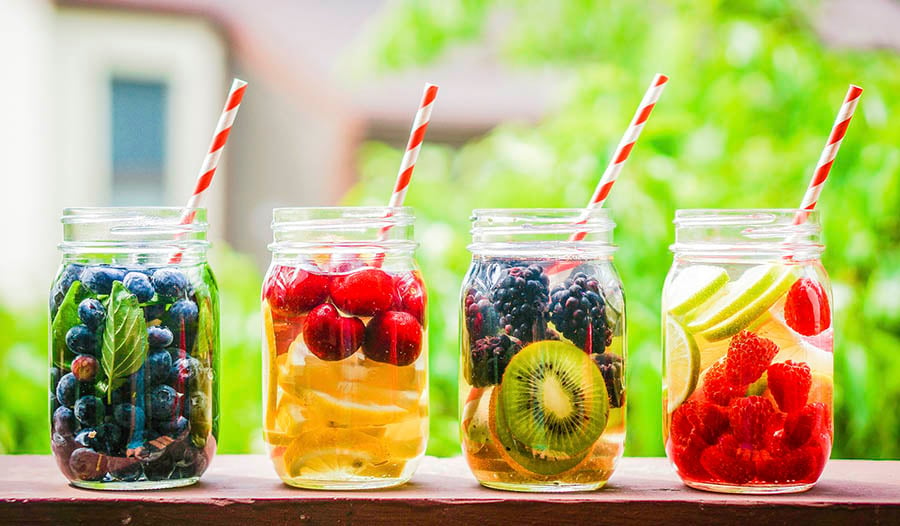 It's good to do a detox every now and then because you absorb so many toxins from foods, products you use on your body and hair, medicines, and outside factors like pollutants and cleaning products. Even when you try to eat all organic and use healthy products on your body and in your everyday life, you can't escape it all. When you detox, your body gets rid of some of the toxins that have accumulated over time.
The Best Time to Detox
One of the best times to do a detox is in the spring. At this time, many have just finished a long winter where they ate and drank extra just to stay warm or weren't able to get out so much to breathe in the fresh air and be physically active. Also, sometimes the body builds up an extra layer of fat to stay warm during the cold months. The world around you is renewing itself in spring, and you want your body to do the same.
Detox Benefits
While you may not lose much weight from a detox, the point is not to lose weight. The point is to cut down on the number of impurities in your body (such as heavy metals) and clean out your body so that the immune system is stronger, you aren't so tired, you have a healthy complexion, and your liver and kidneys can do their job better. In fact, some experts say that worthwhile detoxes are the ones that cleanse the liver and kidneys because these organs already do the job of ridding the body of toxins, and they just need to be given a good cleansing and some fuel every once in a while to do their jobs in the most efficient ways possible.
Detox with Fresh Foods
Some of the foods with the most detoxifying powers are fresh foods like grapefruit; lemons, which have a special ingredient in the peel that works magic; guacamole, which is a mix of fresh foods that are all-natural detoxers; asparagus, which helps get rid of toxins and protects the liver; bananas, which decrease bloat by diminishing gas and preventing water retention; and raw greens. As little as 1 1/2 cups is all you need per week. You could pack this amount into a smoothie.
Other Detox Foods
There are other foods that can help you detox. These include hibiscus flowers, which are naturally caffeine-free and good at slimming down your waistline; white tea, which helps get rid of an inflated stomach due to gas and bloating; and raw almonds, more potent when soaked, that diminish fat buildup around the liver and decrease your chance of getting liver cancer. You may be able to cut your risk by almost 50 percent when you eat 15 almonds a day. Legumes, such as chickpeas, peas, lentils and beans , may help you to lose weight, and they can be mixed right into many of the foods you're already eating. Rolled oats lower cholesterol, fight heart disease, and help you lose weight too.
Detox Flavored Waters, Tea and Smoothies
How intense you want your detox to be is completely up to you. There are some strong detox drinks that cut out everything but the essentials and really get your body cleaned out, and there are some milder detox waters that are much easier to get down; they have amazing benefits too. Detox smoothies are another option. Just add a scoop of protein powder to one of them, and you've got yourself a meal. From waters and smoothies to juices and shakes, you could get rid of a lot of toxins with whichever one you choose.
The great thing about detox waters is that they are mild enough in flavor that you can sip them all day, and yet they have just enough flavor to make you want to guzzle them all day. When the water is all gone, you can eat the pieces of fruit that are left at the bottom of the pitcher.
Making flavored water is as simple as taking two to four fresh and flavorful superfoods and adding them to 2 liters of drinking water, letting the flavors mesh in the fridge for several hours or overnight, and then just drinking away throughout the day. You can add as much of each fresh fruit or herbs as you like, but remember that the point is to give your water a little flavor without making it too strong to enjoy in large amounts. Here are some ideas.
Detox Flavored Waters
Grapefruit and Mint Detox Water
Ingredients:
2 whole fresh grapefruit
5 mint sprigs or 20 leaves
Instructions:
Wash the whole grapefruit and mint sprigs or leaves thoroughly.
Slice the grapefruit into thin rounds or wedges, and add them along with the mint to 8 cups of water in a large pitcher.
Store this water in the refrigerator in a covered glass or plastic pitcher. Makes 8 servings.
Apple, Lemon, and Mint Detox Water
Ingredients:
3 apples
1 lemon
5 fresh mint sprigs or 20 leaves
Instructions:
Wash and core your apples, wash and slice your lemons into thin rounds, and wash your fresh mint sprigs or leaves.
Combine with 8 cups of water in a large bowl or pitcher.
Store covered in the fridge for several hours or overnight before you begin drinking it. Makes 8 servings.
Hibiscus and Lemon Detox Water
Ingredients:
Instructions:
Wash the lemon and slice it into thin rounds.
Add it along with the hibiscus flowers and ginger to 8 cups of drinking water.
Leave it alone in the fridge for several hours before you begin drinking it. Makes 8 servings.
White Tea, Berry and Lemon Detox Water
Ingredients:
4 white tea teabags or 4 Tbs/ loose white tea leaves
24 raspberries and blackberries
1 lemon
Instructions:
If you're using loose tea, steep the tea in 3 cups of boiled water for three minutes, remove the loose tea, and add the berries. Let steep for an additional five minutes, and then add the rest of the water and the lemon, washed and sliced into rounds.
If you're using tea bags, you can steep everything at the same time. Remove the tea bags before adding the rest of the water. Leave it alone in the fridge for several hours before you begin drinking it. Makes 8 servings.
Detox Tea
Turmeric, Lemon and Ginger Detox Tea
This detox drink has a strong flavor, but its benefits are immense.
Ingredients:
Instructions:
Peel and slice the ginger.
Put 6 cups of water in the pot with the ginger and bring to a boil. Turn it down to a simmer, and after 10 minutes, add the cinnamon, turmeric powder, and cayenne pepper.
Stir occasionally while letting it simmer for another 10 minutes.
Remove from heat and strain. Once cool, store it in the fridge in a covered container. Each morning, put 1/4 cup of this mix in a glass with the juice of half a lemon and 3/4 cup warm or ice water. You can also add honey if you like. Makes 24 servings.
Detox Smoothies
Turmeric Smoothie
If you want a gentler way to get the super powers of turmeric, try this smoothie. It's great as a snack or dessert.
Ingredients:
Instructions:
Put all the ingredients in the blender, including the turmeric with the water, and blend on high for 1 minute.
Serve in two 8-ounce glasses and sprinkle with additional cinnamon if desired. Makes two servings.
Oat and Strawberry Smoothie
This is an amazing smoothie, and in addition to being packed with powerful detox foods, it is a meal replacement or post-workout smoothie.
Ingredients:
Instructions:
Put the ingredients in the blender and blend for 1 minute.
Pour into two glasses and garnish with sliced strawberries. Makes two 8-ounce servings.
Fruit and Greens Smoothie
This smoothie has a lot of superfoods in it to fuel your body.
Ingredients:
2 cups almond milk
1 cucumber with the peel
1 large handful fresh parsley
2 bananas, peeled
2 cups chopped pineapple
2 oranges, peeled and seeds removed
4 cups fresh dandelion greens
6 - 8 ice cubes
Instructions:
Put everything into the blender and blend for 1 minute or until smooth.
Pour into glasses and serve immediately or store covered in the fridge for up to 24 hours. Makes eight 8-ounce servings.