Healthy Homemade Vegan Apple Cider
DISCLAIMER
This blog does not intend to provide diagnosis... Read More

This blog does not intend to provide diagnosis, treatment, or medical advice. Read more. The content provided on this blog is for informational purposes only. Please consult with a physician or other healthcare professional regarding any medical or health-related diagnosis or treatment options. Information on this blog should not be considered as a substitute for advice from a healthcare professional. The claims made about specific products throughout this blog are not approved to diagnose, treat, cure, or prevent disease.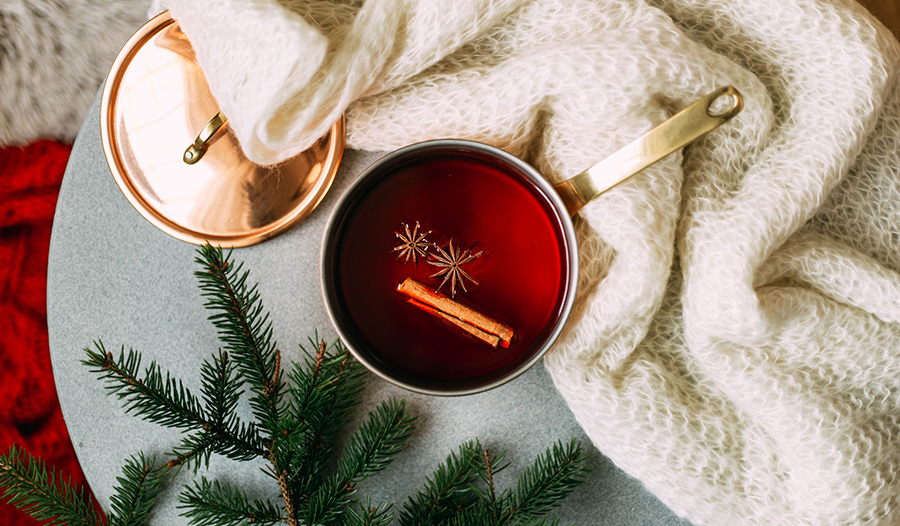 The nights are growing longer, and cool weather is moving in. Hot mulled apple cider uses warmth and spices to fight the chill. However, many store-bought ciders have additives like processed sugar and preservatives. Learn how to make delicious apple cider with no added sugars using this recipe.
The Homemade Touch
Homemade cider is healthy, easy and delicious. By using unsweetened apple juice, this cider only contains sugars from fruits. The recipe is naturally vegan, and ingredients can be added or left out depending on specific diets. Swap out the orange for a pear to avoid citrus if desired. Swap the whole spices for ground ones to make straining easier. We included variations to use to customize your cider recipe at the end of this article.
Benefits of Warming Spices
The spices used, such as cinnamon, allspice, cloves, nutmeg and others, are called warming spices because they help raise internal body temperature and improve circulation. Research is ongoing into the many benefits of these spices. In Chinese medicine, these are called yang spices. They invigorate the body and stimulate the flow of qi, which is personal energy. As the days grow colder, getting more yang spices in your body can help maintain energy levels.
Homemade Apple Cider Recipe
Ingredients:
6 cups unsweetened apple juice
2 apples
1 orange
1/2 cup fresh cranberries or 1/4 cup dried cranberries
1 cinnamon stick
1 tsp. Allspice
1 tsp. Cloves
1/2 tsp. nutmeg
Instructions:
Wash the apples and orange and cut them into quarters. Wash the cranberries.
Place all ingredients in a pot and bring to a boil.
Lower heat to simmer and cook for one to two hours. The longer it simmers, the more flavorful it will be. Add water if the level drops too much.
Strain fruits and spices out of the cider.
Serve and enjoy.
This is a great recipe to make in a slow cooker. It stores for up to one week in the refrigerator.
Spice Up Your Homemade Apple Cider With These Tweaks
Add one lemon and one lime quartered to brighten the cider and make it less sweet. This adds some sour yin to the yang cider, creating a greater balance.
Add 1 inch of fresh ginger and one chili pepper to make the cider spicier.
Add ¼ cup maple syrup or honey to sweeten the cider.
Replace the apples with one cup pineapple and one cup mango for tropical cider. Really, any preferred fresh fruit can be swapped into this recipe.
Add turmeric, ginger and black pepper to make vegan golden cider. Research has shown turmeric to help reduce inflammation and alleviate gastric issues.