Saffron: Nature's Best Answer to Boosting Mood
DISCLAIMER
This blog does not intend to provide diagnosis... Read More

This blog does not intend to provide diagnosis, treatment, or medical advice. Read more. The content provided on this blog is for informational purposes only. Please consult with a physician or other healthcare professional regarding any medical or health-related diagnosis or treatment options. Information on this blog should not be considered as a substitute for advice from a healthcare professional. The claims made about specific products throughout this blog are not approved to diagnose, treat, cure, or prevent disease.
In this article: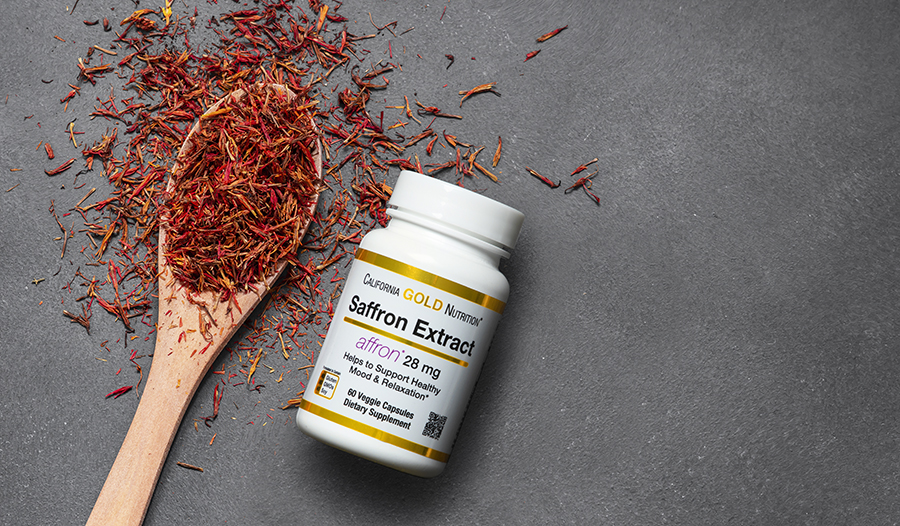 ‌‌‌‌What is Saffron?
Saffron (Crocus sativus) is the world's most expensive spice and now is becoming the most highly valued herbal approach to boosting mood, promoting a relaxed and focused mind, improving sleep quality, and exerting many other health benefits.
Saffron, as a spice, is expensive because it is derived from the stigma of the flower. The stigma is threadlike parts at the center of the flower. The stigma of saffron may be red, yellow, or golden yellow-orange.
As a dietary supplement, high-quality clinical trials have found that saffron extracts from the petals of the flower have similar efficacy to those derived from the much more expensive stigma. This equal efficacy is based upon improvement in well-recognized clinical assessment scores of mood produced by extracts of either saffron stigma or petals.1,2
The Health Benefits of Saffron: Read more.
‌‌‌‌affron® - The Superior Saffron Extract
The reason that extracts from either the stigma or petals produce results is because they both can contain the same active compounds – carotenoid plant pigments responsible for the hues of the stigma and petals. The determining factors in whether petal extracts have all of these pigments are where and how they are grown. For example, affron®, the premium saffron extract, is derived from the more abundant petals of the flower of Spanish saffron because it can also provide the key carotenoid of the stigma, crocin, lacking in other petal extracts.3
In affron®, the carotenoid compounds are termed Lepticrosalides™, which include the three most important carotenoid molecules crocin, picrocrocin, and safranal. In affron®, these compounds collectively are standardized at 3.5% in order to provide a consistent dosage level. affron® utilizes a proprietary extraction process that uniquely concentrates and preserves these active compounds making it the superior saffron extract. Detailed absorption studies also show advantages to affron®.3
‌‌‌‌Saffron May Help Improve Mood
Saffron has emerged as one of the best natural approaches to boosting mood. Numerous studies have now shown various extracts of saffron are safe and effective as a natural mood-elevating agent with the additional benefit of calming feelings of anxiety.
How Does Saffron Boost Mood?
Saffron's mood-elevating and calming effects are due to multiple sites of action. For example, it increases the levels in the brain of important mood-elevating neurotransmitters like serotonin and dopamine. It also modulates the stress response and exerts anti-inflammatory effects in the brain.1,2
What Does The Research Say?
The human clinical studies conducted with affron® are especially well-designed and have shown significant effects in boosting mood and relieving feelings of stress, even in healthy individuals. For example, in one study in healthy subjects, affron® at a dosage of 14 mg twice daily over four weeks, increased mood, reduced feelings of anxiety, and improved stress management. These benefits were produced without side effects.4
affron® is the also first saffron preparation to be studied in teenagers. In an 8-week, double-blind study, teenagers 12-16 years old with low mood scores and/or feelings of anxiety were given affron® (14 mg twice daily) or a placebo. Those teenagers taking affron® showed greater improvements in symptoms associated with low moods such as internalization of feelings, separation anxiety, and social phobia.5
In another study, affron® (14 mg twice daily) or a placebo was given to 160 adults for eight weeks who were currently taking an antidepressant drug. The goal was to see if affron® was both safe and helpful. The interesting result was that affron® not only helped improve mood when combined with the drug but that it also significantly reduced side effects related to the drug.6 These results were consistent with other studies.
‌‌‌‌How Does Saffron Compare to Traditional Treatments?
One side effect of some serotonin reuptake inhibitor (SSRI) antidepressant drugs is sexual dysfunction. In women, this shows up as decreased desire and arousal, while in men it can lead to erectile dysfunction and loss of interest in sex. In double-blind studies in both men and women on SSRI antidepressants, those taking a standardized extract of saffron petals (30 mg per day) experienced significantly greater improvements in some measures of sexual function. Female subjects experienced improvements in arousal, lubrication, and pain.7 Men experienced improvements in erectile function and intercourse satisfaction.8 Not surprising since 60% of the men taking the saffron extract achieved normal erectile function versus only 7% of those taking the placebo.
‌‌‌‌Saffron May Reduce Feelings of Anxiousness and Improve Sleep
Saffron is a valuable herbal approach to help deal with stress and poor sleep. In a double-blind study in 63 healthy adults 18-70 years of age with self-reported sleep problems, subjects took affron® (14 mg twice daily) or a placebo for 28 days. Affron® was associated with greater improvements measures of sleep quality ratings compared to the placebo.9 Like other studies, affron® intake caused no side effects.
‌‌‌‌Additional Health Benefits of Saffron
Saffron has shown evidence in producing other health benefits including:
Enhances brain function

2

Protects the brain and eyes against aging

2,10

Improving symptoms of the premenstrual syndrome (PMS)

11

Helping improve appetite control and support weight loss

12

Prevention of the delayed onset muscle soreness (DOMS) after strenuous exercise

13

Reduces menstrual cramps

14

Improves male fertility

15

Supports the vascular system

16

Enhances anti-allergy and anti-inflammatory processes

17
‌‌‌‌Takeaway
With the availability of affordable, high-quality extracts like affron® the popularity of saffron as a valuable herbal approach to health is destined to rise. While saffron has shown the ability to produce a myriad of health benefits, the bottom line is that it is especially in helping people just feel better.
5 Natural Ways To Boost Your Mood: Read more.
References:
Tóth B, Hegyi P, Lantos T, Szakács Z, Kerémi B, Varga G, Tenk J, Pétervári E, Balaskó M, Rumbus Z, Rakonczay Z, Bálint ER, Kiss T, Csupor D. The Efficacy of Saffron in the Treatment of Mild to Moderate Depression: A Meta-analysis. Planta Med. 2019 Jan;85(1):24-31.

Bian Y, Zhao C, Lee SM. Neuroprotective Potency of Saffron Against Neuropsychiatric Diseases, Neurodegenerative Diseases, and Other Brain Disorders: From Bench to Bedside. Front Pharmacol. 2020 Oct 6;11:579052.

Almodóvar P, Briskey D, Rao A, Prodanov M, Inarejos-García AM. Bioaccessibility and Pharmacokinetics of a Commercial Saffron (Crocus sativus L.) Extract. Evid Based Complement Alternat Med. 2020 Jan 30;2020:1575730.

Kell G, Rao A, Beccaria G, Clayton P, Inarejos-García AM, Prodanov M. affron® a novel saffron extract (Crocus sativus L.) improves mood in healthy adults over 4 weeks in a double-blind, parallel, randomized, placebo-controlled clinical trial. Complement Ther Med. 2017 Aug;33:58-64.

Lopresti AL, Drummond PD, Inarejos-García AM, Prodanov M. affron®, a standardised extract from saffron (Crocus sativus L.) for the treatment of youth anxiety and depressive symptoms: A randomised, double-blind, placebo-controlled study. J Affect Disord. 2018 May;232:349-357.

Lopresti AL, Smith SJ, Hood SD, Drummond PD. Efficacy of a standardised saffron extract (affron®) as an add-on to antidepressant medication for the treatment of persistent depressive symptoms in adults: A randomised, double-blind, placebo-controlled study. J Psychopharmacol. 2019 Nov;33(11):1415-1427.

Kashani L, Raisi F, Saroukhani S, et al. Saffron for treatment of fluoxetine-induced sexual dysfunction in women: randomized double-blind placebo-controlled study. Hum Psyschopharmacol. 2013;28(1):54-60.

Modabbernia A, Sohrabi H, Nasehi A-A, et al. Effect of saffron on fluoxetine-induced sexual impairment in men: randomized double-blind placebo-controlled trial. Psychopharmacology (Berl). 2012;223(4):381-388.

Lopresti AL, Smith SJ, Metse AP, Drummond PD. Effects of saffron on sleep quality in healthy adults with self-reported poor sleep: a randomized, double-blind, placebo-controlled trial. J Clin Sleep Med. 2020 Jun 15;16(6):937-947.

Piccardi M, Marangoni D, Minnella AM, et al. A longitudinal follow-up study of saffron supplementation in early age-related macular degeneration: sustained benefits to central retinal function. Evid Based Complement Alternat Med. 2012;2012:429124. doi: 10.1155/2012/429124.

Agha-Hosseini M, Kashani L, Aleyaseen A, et al. Crocus sativus L. (saffron) in the treatment of premenstrual syndrome: a double-blind, randomised and placebo-controlled trial. BJOG. 2008;115(4):515-519.

Gout B, Bourges C, Paineau-Dubreuil S. Satiereal, a Crocus sativus L extract, reduces snacking and increases satiety in a randomized placebo-controlled study of mildly overweight, healthy women. Nutr Res. 2010;30(5):305-313.

Meamarbashi A, Rajabi A. Preventive effects of 10-day supplementation with saffron and indomethacin on the delayed-onset muscle soreness. Clin J Sport Med. 2015;25(2):105-112.

Nahid K, Fariborz M, Ataolah G, Solokian S. The effect of an Iranian herbal drug on primary dysmenorrhea: a clinical controlled trial. J Midwifery Womens Health. 2009;54(5):401-404.

Safarinejad MR, Shafiei N, Safarinejad S. A prospective double-blind randomized placebo-controlled study of the effect of saffron (Crocus sativus Linn.) on semen parameters and seminal plasma antioxidant capacity in infertile men with idiopathic oligoasthenoteratozoospermia. Phytother Res. 2011;25(4):508-516.

Moshiri M, Vahabzadeh M, Hosseinzadeh H. Clinical applications of saffron (Crocus sativus) and its constituents: A review. Drug Res (Stuttg). 2015;65(6):287-295.

Kianbakht S, Ghazavi A. Immunomodulatory effects of saffron: a randomized double-blind placebo-controlled clinical trial. Phytother Res. 2011;25(12):1801-1805.