These Herbs, Spices and Nuts Could Help with Diabetes Management
DISCLAIMER
This blog does not intend to provide diagnosis... Read More

This blog does not intend to provide diagnosis, treatment, or medical advice. Read more. The content provided on this blog is for informational purposes only. Please consult with a physician or other healthcare professional regarding any medical or health-related diagnosis or treatment options. Information on this blog should not be considered as a substitute for advice from a healthcare professional. The claims made about specific products throughout this blog are not approved to diagnose, treat, cure, or prevent disease.
In this article: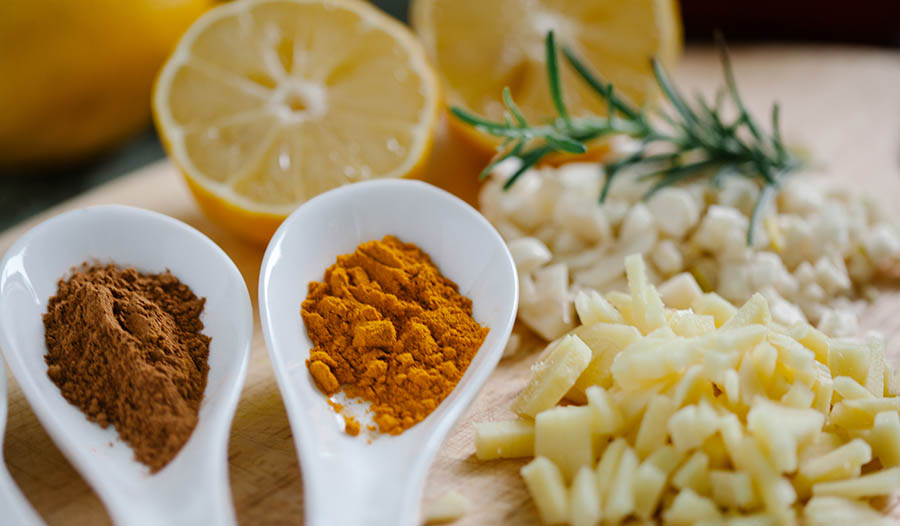 Worldwide, more than 422 million people have diabetes. The vast majority—90-95 percent— have type 2 diabetes, a condition primarily due to lifestyle factors, like consumption of excess sugar, and limited physical activity. Type 1 diabetes is not preventable and occurs when the immune system attacks the pancreas, preventing its ability to secrete insulin.
Uncontrolled diabetes can cause damage to the brain, nerves, tissues, eyes, heart, and kidneys. When blood sugar is chronically elevated, the walls of the arteries become damaged (endothelial dysfunction), leading to artery blockage, stroke, or heart attack. Diabetes also increases the risk of various cancers and Alzheimer's disease, and it's believed that elevated levels of insulin are the leading reason this occurs. Fasting and consuming a low carbohydrate diet, or keto diet, can be beneficial.
Medications are frequently prescribed by doctors to help lower blood sugar and prevent diabetic complications. Some with diabetes need to inject insulin when diet, lifestyle changes, and oral medications are not sufficient. However, some desire to take more natural approaches and prefer herbal alternatives, especially during the early stages. For those with type 2 diabetes, these can frequently be useful, but one should consult with their healthcare provider prior to adding anything new to their regimen.
Cinnamon
Cinnamon is a common culinary spice used all over the world. Over the last decade, there has been renewed interest in cinnamon and its ability to help regulate blood sugar levels in both pre-diabetics and diabetics alike.
A 2013 study concluded, "The consumption of cinnamon is associated with a statistically significant decrease in levels of fasting plasma glucose, total cholesterol, LDL (bad cholesterol), and triglyceride levels, and an increase in HDL (good cholesterol) levels; however, no significant effect on hemoglobin A1c was found…".
A 2016 meta-analysis study also showed some beneficial effects. In this study, patients continued to take their diabetes medications but also added cinnamon supplements. The researchers concluded that cinnamon supplements added to standard diabetic medications and other lifestyle therapies and had modest effects on lowering fasting blood sugar values and hemoglobin A1c. Suggested dose: As directed on the label.
Fenugreek
An herb commonly used in Indian curry, fenugreek's seeds have also traditionally been used to help lower sugar and inflammation. Recent studies show it can be helpful in lowering blood sugar and cholesterol. A 2015 study from Czechoslovakia showed fenugreek may be comparable to various prescription medications commonly used to treat diabetes.
A 2016 study in the Journal of Ethnopharmacology showed that fenugreek could significantly lower blood sugar levels when compared to a placebo pill. Suggested dose: As directed on the label.
Bitter melon
This plant has been used since the days of antiquity to help lower blood sugar. A 2009 animal study showed bitter melon could help reduce insulin resistance, a common finding in diabetes. More recently, a 2015 study in Nutrition Journal showed its ability to lower blood sugar levels when taken at doses of 2,000 and 4,000 mg per day. Suggested dose: As directed on the label.
Gamma Linolenic Acid
Gamma linolenic acid is a fatty acid found in various seed oils such as evening primrose oil and borage oil. It can be applied topically to help with skin conditions like eczema or consumed as a capsule for other health concerns. While there is no evidence that it can help prevent diabetes, it may be helpful for those with diabetic neuropathy, a painful condition. A 1993 study in Diabetes Care showed that GLA, when taken for one year, could reduce symptoms of nerve damage due to diabetes. Suggested dose: As directed on the label.
Garlic
Garlic is a popular herb grown all over the world. It has a distinctive smell and has been used for medicinal purposes for millennia. Shown to help reduce the risk of contracting the common cold, lower blood pressure and even cholesterol, garlic appears to also be helpful for those with diabetes. A 2017 study in Food & Nutrition Research showed garlic supplementation could result in a significant reduction in glucose levels and hemoglobin A1C levels. Diet and exercise are also very important. Suggested dose: As directed on the label.
Bilberry (Vaccinium myrtillus)
Bilberries contain powerful antioxidants known as anthocyanins, a type of flavonoid in flowers and fruits. Scientific studies suggest that anthocyanins can help lower blood sugar levels. A 2013 study in the Journal of Nutrition Science demonstrated that a bilberry extract supplement could reduce blood sugar levels and insulin levels in diabetics after a meal. A 2017 study also supported this evidence. Bilberry can be consumed as a food or as a supplement.
Ginseng
Making sure your blood sugar levels are controlled can take work and dedication. Ginseng can help, too—studies have shown that ginseng is beneficial in lowering blood sugar and has positive effects in diabetics or even those with prediabetes. There is evidence that ginseng root can also improve insulin production. A 2014 study concluded, "Ginseng modestly yet significantly improved fasting blood glucose in people with and without diabetes..." A 2018 study also showed ginseng's benefit in lowering blood sugar.
It is still important to know that you should not discontinue any current medications you are taking unless advised by your physician. You should discuss with your primary care doctor if ginseng is right for you.
Almonds (Prunus amygdalus)
Almonds are the seeds of trees native to Mediterranean regions of the Middle East, and Southern Asia. Nowadays, the majority of the world's almonds are produced in California, while Spain, Iran and Morocco produce about 14 percent of the world's almonds. Almond seeds are a healthy snack with many benefits—almond milk, almond flour and almond butter have become popular food items over the last decade.
A 2011 study in Metabolism showed that those with diabetes who consumed almonds on a daily basis saw lower blood sugar levels compared to those who did not eat almonds. In addition, a 2017 study showed that regular consumption could help improve blood sugar control. Adding a serving or two of almonds to one's daily routine is advised for both diabetics and non-diabetics alike.
Pistachios
Pistachios are related to cashews and have their origins in the Middle East and Southeast Asia. They are rich in antioxidants with many nutritional benefits. A 2015 study showed that diabetics who consumed pistachios regularly were less likely to experience heart attacks due to reduced risk factors, such as high cholesterol. The researchers concluded that diabetics should make healthy lifestyle choices, including daily consumption of pistachios. A 2017 study also showed their overall value in those with diabetes while a 2014 study showed pistachios could help lower of blood pressure in diabetics.
Coffee
One of the most consumed beverages in the world, coffee has many health benefits. One benefit may be helping to prevent diabetes. This assertion is based on studies going back to 2006, which were confirmed by a 2013 study in the American Journal of Clinical Nutrition. Similarly, a 2014 study out of Europe concluded that coffee might significantly reduce the risk of developing type 2 diabetes. There is some evidence that coffee could pose risks for those who already have the condition, so consult your doctor before adding or increasing your intake of coffee if you are diabetic.
Green Tea
Green tea is one of the world's most consumed drinks, second only to water and coffee. It is believed to have anti-obesity and anti-inflammatory effects, and it may also be an effective anti-diabetic agent. The main bioactive anti-oxidant component in green tea is a catechin known as epigallocatechin-3-gallate (EGCG). There have been some conflicting studies as to whether EGCG is helpful to those with diabetes. However, a 2015 study concluded that regular consumption of green tea was helpful in type 2 diabetes.
Likewise, a 2017 study of pregnant women with gestational diabetes (diabetes during pregnancy), showed women given EGCG from green tea had improved outcomes compared to those given a placebo substance. An additional 2017 study in Nutricion Hospitalaria showed that 12 weeks of supplementation with green tea extract was helpful in reducing both body fat and body weight in people involved in the study—weight loss can ultimately reduce one's risk for diabetes. Two to three cups of green tea per day, or possibly consuming EGCG in a supplement form, could be beneficial.
References:
Allen RW, Schwartzman E, Baker WL, Coleman CI, Phung OJ. Cinnamon use in type 2 diabetes: an updated systematic review and meta-analysis. Ann Fam Med. 2013;11(5):452-9.

Costello RB, Dwyer JT, Saldanha L, Bailey RL, Merkel J, Wambogo E. Do Cinnamon Supplements Have a Role in Glycemic Control in Type 2 Diabetes? A Narrative Review. J Acad Nutr Diet. 2016;116(11):1794-1802.

Ceska Slov Farm. 2015 Jun;64(3):67-71.

J Ethnopharmacol. 2016 Dec 24;194:260-268. doi: 10.1016/j.jep.2016.08.003. Epub 2016 Aug 2.

Inayat U Rahman, Khan RU, Khalil Ur Rahman, Bashir M. Lower hypoglycemic but higher antiatherogenic effects of bitter melon than glibenclamide in type 2 diabetic patients. Nutr J. 2015;14:13. Published 2015 Jan 26. doi:10.1186/1475-2891-14-13

Diabetes Care. 1993 Jan;16(1):8-15.

Wang J, Zhang X, Lan H, Wang W. Effect of garlic supplement in the management of type 2 diabetes mellitus (T2DM): a meta-analysis of randomized controlled trials.

Nutr Res. 2017;61(1):1377571. Published 2017 Sep 27. doi:10.1080/16546628.2017.1377571

Hoggard N, Cruickshank M, Moar KM, et al. A single supplement of a standardised bilberry (Vaccinium myrtillus L.) extract (36 % wet weight anthocyanins) modifies glycaemic response in individuals with type 2 diabetes controlled by diet and lifestyle. J Nutr Sci. 2013;2:e22. Published 2013 Jul 24. doi:10.1017/jns.2013.16

Curr Pharm Des. 2017;23(7):983-988. doi: 10.2174/1381612822666161010120523.

Luo JZ, Luo L. Ginseng on Hyperglycemia: Effects and Mechanisms. Evidence-based Complementary and Alternative Medicine : eCAM. 2009;6(4):423-427. doi:10.1093/ecam/nem178.

Shishtar E, Sievenpiper JL, Djedovic V, et al. The Effect of Ginseng (The Genus Panax) on Glycemic Control: A Systematic Review and Meta-Analysis of Randomized Controlled Clinical Trials. Hartling L, ed. PLoS ONE. 2014;9(9):e107391. doi:10.1371/journal.pone.0107391.

Choi HS, Kim S, Kim MJ, et al. Efficacy and safety of Panax ginseng berry extract on glycemic control: A 12-wk randomized, double-blind, and placebo-controlled clinical trial. Journal of Ginseng Research. 2018;42(1):90-97. doi:10.1016/j.jgr.2017.01.003.

Metabolism. 2011 Apr;60(4):474-9. doi: 10.1016/j.metabol.2010.04.009. Epub 2010 May 23.

Chen CM, Liu JF, Li SC, et al. Almonds ameliorate glycemic control in Chinese patients with better controlled type 2 diabetes: a randomized, crossover, controlled feeding trial. Nutr Metab (Lond). 2017;14:51. Published 2017 Aug 2. doi:10.1186/s12986-017-0205-3

Sauder KA, McCrea CE, Ulbrecht JS, Kris-Etherton PM, West SG. Effects of pistachios on the lipid/lipoprotein profile, glycemic control, inflammation, and endothelial function in type 2 diabetes: A randomized trial. Metabolism. 2015;64(11):1521-9.

J Am Heart Assoc. 2014 Jun 30;3(4). pii: e000873. doi: 10.1161/JAHA.114.000873.

Ned Tijdschr Geneeskd. 2006 Aug 19;150(33):1821-5.

Am J Clin Nutr. 2013 Jan;97(1):155-66. doi: 10.3945/ajcn.112.048603. Epub 2012 Nov 14.

Eur J Nutr. 2014 Feb;53(1):25-38. doi: 10.1007/s00394-013-0603-x. Epub 2013 Oct 23.

Molecules. 2016 Sep 29;21(10). pii: E1305. Green tea anti-obesity effects

Nutr Hosp. 2017 Jun 5;34(3):731-737. doi: 10.20960/nh.753.