How to Create a Balanced Diet for Your Infant
DISCLAIMER
This blog does not intend to provide diagnosis... Read More

This blog does not intend to provide diagnosis, treatment, or medical advice. Read more. The content provided on this blog is for informational purposes only. Please consult with a physician or other healthcare professional regarding any medical or health-related diagnosis or treatment options. Information on this blog should not be considered as a substitute for advice from a healthcare professional. The claims made about specific products throughout this blog are not approved to diagnose, treat, cure, or prevent disease.
In this article: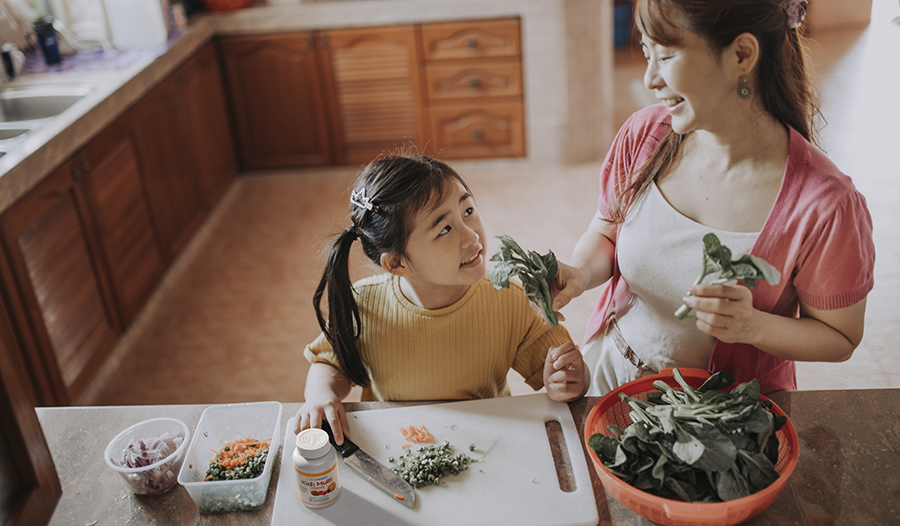 There is no one correct way to approach feeding your infant, and while there are many recommendations available for nutrient balance, food timing and texture, and serving amounts, it is important to mold these suggestions to what works best for you and your child. Every infant matures at a different pace and what works for your infant may not work for another infant of the exact same age.
One of the most important aspects I take into consideration when feeding my infant is to provide variety in all aspects. The types of foods, textures, preparations, and serving methods are some of the key areas to focus on as you work towards creating a balanced diet for your infant.
Below I have compiled some of my (and my son's!) favorite products for a well-balanced diet. Feeding your infant is a journey with plenty of troubleshooting and lots of patience involved, and my hope is these suggestions will help make the process slightly easier for you. Let's get to it!
Here is how you build a varied and balanced diet for your infant using easily accessible foods and serving tools.
‌‌‌‌Snacks, Bars, and Finger Food for Babies
Fruit snacks
Fruit snacks are a wonderful way to add a soft, chewy texture for your little one to try out. Those that are made with real fruit and no high fructose corn syrup or genetically modified ingredients are a great grab-and-go snack to have on hand. I always keep a stash of individually portioned foods in my baby bag and these are a staple.
Puffs
Talk about texture! Puffs are an easy and fun snack, and the high-quality ones are packed with texture, nutrients, and flavor. Those with no added sugar, colors, or flavors make these a great option as well. Even if your little one is "gumming" most of their food right now, no worries, they will soften these right up while they enjoy the flavors. I like the ones that are chickpea or lentil-based. Chickpeas, and beans in general, naturally provide protein and a slew of vitamins and minerals, so any way I can get my little one to enjoy them is a win for me! You'll also find veggies, like spinach, beets, and carrots in many products to round out the nutrient profile for a great meal or snack component. This is a fantastic finger food that builds independence in self-feeding and can introduce your infant to different flavors, too. I have found that if I constantly offer sweet foods to my little guy, he will almost always choose the sweet over savory. To promote variety in taste preferences, I like to provide savory options when possible.
Bars
For adults and children, there are so many different snack bar options available to choose from. Quality ingredients and the amount of added sugar are the primary components I look at when choosing bars for myself and baby. I also look at the amount of fiber and protein they provide, to ensure a balanced food option that will fill up my little one with important nutrients. The fiber content also helps to support digestive regularity which is very important in avoiding digestive discomfort in infants. Many high-quality bars include ingredients like flaxseeds, which provide healthy omega-3 fats that are important for neurological health and development.
‌‌‌‌Teething Wafers
Food quality is such an important aspect of feeding your infant. With so many different food options available, it can be hard to discern which are the better-quality options. As often as possible, I try to use organic products, including produce, dairy, meat, and packaged items. Organic teething wafers have been in frequent rotation at my house. Now that Max is close to one year old, he has begun feeding himself more, and teething wafers are wonderful for encouraging self-feeding. Additionally, they are easy on his gums, dissolve easily, and come in a wide variety of flavors to meet many different preferences. Sweet potato and banana have become a favorite for us!
‌‌‌‌Hot Cereal for Babies
There are so many varieties of hot cereals available out there, and many are wonderful options. I look for cereals that are organic, made without genetically modified ingredients, and fortified with iron, zinc, and a broad spectrum of B vitamins. This combination of micronutrients is essential for growth as iron and zinc aid in blood health and B vitamins are essential in hundreds of reactions in the body. Additionally, look for cereals with protein and fiber to create a well-rounded option for your little one. One of the most appealing aspects of hot cereal is its versatility. Serve it plain, mixed with mashed fruit, or topped with savory components, like avocado, to try out different flavor profiles.
‌‌‌‌Food Pouches
Who hasn't tried a "food pouch" with their infant? While this is an extremely common texture that many little ones enjoy, I have found the quality to vary drastically across brands. It's important to seek out varieties of fruit and vegetable combinations that are packed with nutrients and made with quality produce. With a base of several fruits and vegetables, pouches provide vitamins, minerals, and fiber. I also like to look for ingredients like avocado, a unique component you won't often find in pouches that contain healthy fats. If your infant is still learning how to self-feed, the spout on these products helps to reduce messes and ensure your little one gets more of the good stuff with less waste.
‌‌‌‌Tools and Accessories for Infant Feeding
Utensils
The tools and utensils you and your infant use during meals play a major role in the eating process. While many infants are experimenting with self-feeding, which often involves very messy hands and a mess on the floor, feeding spoons will likely become very useful as their self-feeding progresses. I like to use food-dispensing spoons, which are uniquely designed to make it easier for your little ones to serve themselves. You simply fill the large handle with your puree of choice and the spoon will dispense the food one bite at a time. Fill with baby food and help with the serving process or load in your favorite pouch contents and allow your infant to enjoy it on their own. Look for spoons that are free from BPA and phthalates, and dishwasher-safe, making clean-up easy on you!
Plates And Bowls
Durability is an important aspect in choosing the right serving utensils when feeding your little one. Look for plates and bowls that are highly durable, unbreakable, and are made with heat-resistant silicone that allows you to serve foods at varying temperatures. I like ones that are divided into sections, which encourages balanced meals. Use the largest sections to provide fruit and other healthy sources of carbohydrates, add a protein source to one of the smaller sections, and try adding a vegetable with a healthy fat source, like oil or avocado, to the last small section. This creates a well-balanced meal filled with variety. I also like plates and bowls with a suction base to keep it in place while your infant eats… less mess for the win!
Cups And Bottles
Fluid intake is so important for everyone of all ages. Hydration can positively influence our energy and digestion and allows all of the cells in our body the ability to function properly. Luckily, there are a lot of cup and bottle options available to encourage water intake for our little guy. I like double handles, which help him be able to drink on his own, and I look for medical-grade silicone straws to make the transition from sippy cups much easier. No-leak bottles travel incredibly well. In fact, I pack our bottles nearly every time we go to the park! No balanced meal is complete without adequate hydration, so fill bottles with water, milk, or diluted, no-added-sugar juice to provide fluid and nutrients to your infant.
‌‌‌‌Picky Eaters and Nutrition
As infants move into the toddler stage, many of them become picky about food. If you struggle with getting nutritious foods into your little one, talk to your pediatrician about whether a children's multivitamin can help. Many kids' vitamins come in gummy forms, like California Gold Nutrition Kid's Multi-Vitamin Gummies, or liquid form, and in flavors kids love, making it easy to fill in any nutrition gaps in their diets.