Get To Know Our iHerb Beauty Brands
DISCLAIMER
This blog has not been approved by your local health department and is not intended to provide diagnosis, treatment, or medical advice. Read More

This blog has not been approved by your local health department and is not intended to provide diagnosis, treatment, or medical advice. The content provided on this blog is for informational purposes only. Please consult with a physician or other healthcare professional regarding any medical or health-related diagnosis or treatment options. Information on this blog should not be considered as a substitute for advice from a healthcare professional. The claims made about specific products throughout this blog are not approved to diagnose, treat, cure, or prevent disease.
In this article: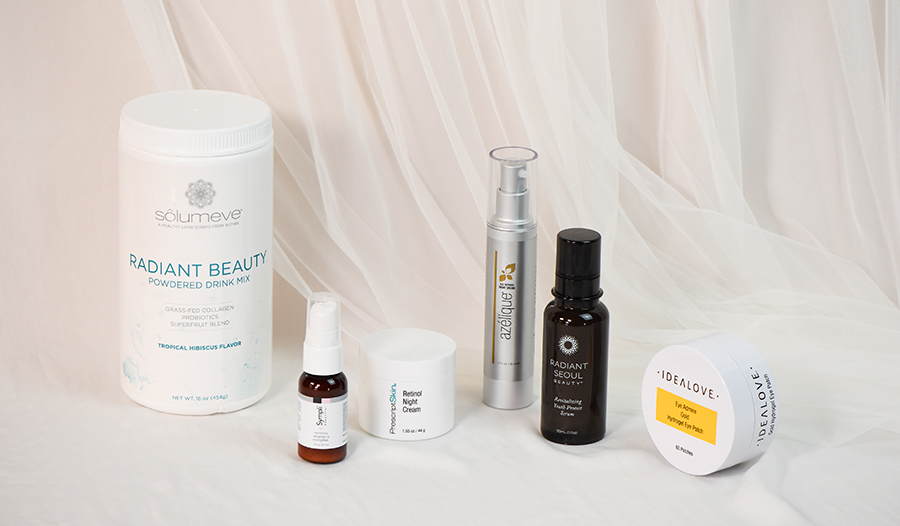 ‌‌‌‌Radiant Seoul

Calling all fans of K-beauty!
Radiant Seoul is our K-beauty inspired skincare brand that is formulated with highly effective hero ingredients to enhance the look of youthful radiant skin. Each product was specifically tailored to meet the needs of women who take pride in the products and ingredients they use, and take time to research the best of the best.
Tranexamic acid, niacinamide, caviar extract, adenosine, centella asiatica and sea buckthorn oil are just a few of the ingredients that you'll find within the range of cleansing oils, serums, creams and of course, the K-beauty staple, sheet masks.
Check out the Radiant Seoul brand page here.
Products To Try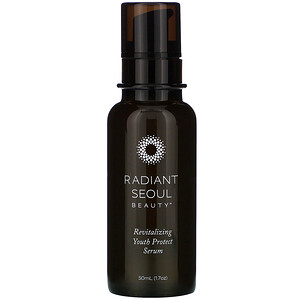 Radiant Seoul Revitalizing Youth Protect Serum
If we had to get rid of all of our serums and keep just one, the Radiant Seoul Revitalizing Youth Protect Serum would make the cut.
This luxurious serum is an all-in-one serum, containing vitamin C, hyaluronic acid, caviar extract, peptides and apple and wild cherry extracts for their powerful antioxidant factor. The texture of the serum is a lightweight gel that goes on extremely smooth, and sits well under makeup. We are in love with the firm, bright and glowy skin looking back at us in the mirror whenever we use this serum and it helps us achieve our glass skin goals. Dream!
‌‌‌‌PrescriptSkin

If you are looking for skincare products to target skin resurfacing, improve uneven and dull skin tone, reduce wrinkles, hydrate skin, reduce congested pores and balance oil production, PrescriptSkin is for you.
Focusing on active ingredients that help to reveal healthy and youthful looking skin, PrescriptSkin is our clinical, results-oriented and complete dermaceutical line for all skin types.
This professional strength skin care product line has comprehensive, science-based and effective ingredients such as:
Retinol - helps to boost collagen, reduce fine lines and wrinkles, and improve skin tone

Glycolic acid - exfoliates skin, treats scarring and skin discoloration

Vitamin C - antioxidants in vitamin C help boost collagen, reduce fine lines, wrinkles, scars and brightens skin tone

Collagen, stem cells and peptides and more.
The formulations are clean and include certified organic extracts, but PrescriptSkin is a professional strength skincare line so it is advised to start with a moderate amount and slowly build up to more frequent usage over time to avoid sensitivity.
Check out the PrescriptSkin brand page here.
Products To Try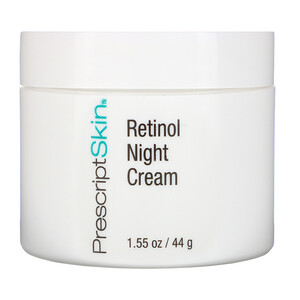 PrescriptSkin Retinol Night Cream
Most dermatologists will recommend retinoids as the product they swear by for anti-aging, improving acne and improving the overall complexion. According to dermatologist Dr. Jenny Liu: "They truly are the holy grail in the sense that multiple and reproducible studies show their benefits with regard to improving acne, sun damage, fine lines, wrinkles, and overall complexion when applied to the skin directly." Prescription strength versions can be stronger and more effective, but do require a visit to a dermatologist.
If you don't fancy a visit to the doctor, retinols are easier to obtain over the counter, and can be just as effective within your skincare regimen. The PrescriptSkin Retinol Night Cream is true to its name and contains retinol to encourage tissue repair, correct any sun damage and fade stubborn dark spots. It is also formulated with a hydrating blend of borage seed oil, rosehip oil and hydrolyzed wheat protein to balance out the retinol and moisturize your skin while you sleep.
With all retinoid and retinol usage, your skin's sensitivity to the sun may increase, so please use sunscreen, wear protective clothing and limit your sun exposure for at least one week after usage.
‌‌‌‌Solumeve

In the quest for beauty, many of us have turned to beauty supplements to try and nourish healthy skin from the inside out. Solumeve is our brand that consists of nutrition and supplements developed to stimulate the production of collagen and elastin for fuller, firmer skin, as well as nutrients such as biotin and folic acid to promote healthy hair, skin and nails.
Solumeve has powdered collagen drink mix, vitamin gummies, and our best-selling Beauty Blossom Complex capsules available for your beauty supplement needs.
Check out the Solumeve brand page here.
Products To Try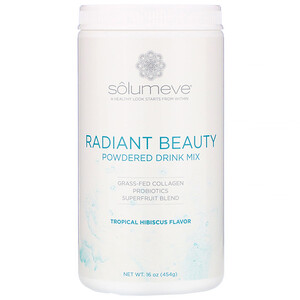 Solumeve Radiant Beauty Grass-Fed Collagen Probiotics & Superfruits Powdered Drink Mix
Collagen is a key component of the skin's structure, and the Solumeve Radiant Beauty Collagen with Probiotics & Superfruits is chock full of absorbable and digestible grass-fed bovine collagen peptides.
Along with a probiotic, prebiotic and superfruit blend, this powdered drink has no artificial colors, flavors or added sugars, making it the perfect addition to your daily beauty routine.
Mix 2 Tbsp (14g) into water, your favorite cold or hot beverage, or even a smoothie to enjoy the benefits of collagen on your skin health.
‌‌‌‌Sympli Beautiful

Sympli Beautiful is a skincare line that is all about simplifying your daily skincare routine. Formulated with naturally-sourced active ingredients, this product line has anti-aging, skin firming and imperfection minimizing solutions for flawless and beautiful skin.
Made with ingredients such as bakuchiol, retinyl palmitate, hyaluronic acid, marula oil, coQ10, vitamin C, peptides, and more, Sympli Beautiful products can help you create a simple daily regimen with products that work hard to keep your skin looking youthful and fresh.
You can easily create a pared-down routine with the Sympli Beautiful line, and here's how:
And that's it!
Check out the Sympli Beautiful brand page here.
Products To Try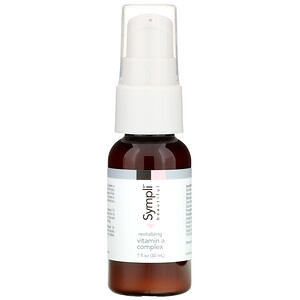 Sympli Beautiful Revitalizing Vitamin A Complex
The Sympli Beautiful Revitalizing Vitamin A Complex uses three forms of vitamin A, hyaluronic acid and coQ10 and is designed to be a nighttime anti-aging treatment to reduce the appearance of redness, dark spots and wrinkles, letting you wake up to radiant and healthy skin.
The vitamin A complex in this serum is comprised of retinyl palmitate (a less irritating form of retinol), carrot root extract (jam-packed with antioxidants and beta carotene), and bakuchiol (a plant-derived retinol alternative that is promotes wrinkle reduction and evens out the skin tone).
If you've ever experienced irritation and flaking skin from prescription retinoids or strongly-formulated retinols, this gentle serum might be the solution you're looking for.
‌‌‌‌Idealove

If you're into following beauty trends like us, one of the things you'll notice is that more and more people are embracing the natural look and moving away from heavy, glam makeup. We see a pared back look emerging, with sheer makeup where real skin can peek through, and a larger focus on skincare more than ever before, which we love!
On that note, our K-Beauty inspired brand Idealove was created based on the idea that skincare can have effective and quality ingredients, but it can be fun too.
Currently, Idealove has two products that have been launched, with lots more on the way, like cleansers, serums, moisturizers, masks and acne patches.
Check out the IdeaLove brand page here.
Products To Try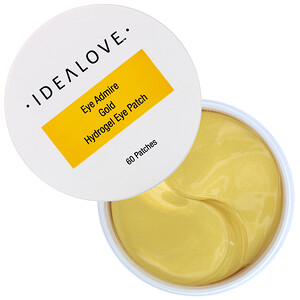 Idealove Eye Admire Gold Hydrogel Eye Patches
Eye masks, or "eye patches", are a very popular product in the K-Beauty world. Applied to the undereyes, they work to moisturize and brighten the delicate eye area and are a fun and affordable luxury that you can apply for a few minutes every day.
Idealove Eye Admire Gold Hydrogel Eye Patches contain a moisturizing infusion of effective anti-aging ingredients that help the skin around your eyes appear glowing and youthful. Notable ingredients are:
Gold, bird's nest extract and ginseng for antioxidant, anti-inflammatory, and anti-aging properties

Glucomannan, a prebiotic sugar derived from the root of the konjac plant, that keeps skin balanced and healthy

Licorice for skin soothing, collagen for restoring suppleness and hyaluronic acid for hydrating and improving the appearance of fine lines and wrinkles
Pop these on after cleansing, toning and applying your serums. You can leave them on for up to 20 minutes, then using your ring finger, tap any remaining essence into the skin so it can absorb. Follow with moisturizer and don't forget sunscreen if it's daytime. Makeup optional.
‌‌‌‌Azelique

Azelique is our premium, antioxidant-rich skincare brand that utilizes an effective blend of nutraceuticals, vitamins and botanical extracts that are formulated to help slow the visible signs of aging, refine skin tone by fading acne scars and discolorations and refine the surface of the skin.
Select products in the main line feature azelaic acid, scientifically known to reduce redness and swelling in acne-prone skin and in rosacea sufferers, to even out pigmentation and to improve skin tone. It also happens to be what the brand is named after.
The Serumdipity line focuses on facial serums and oils that deliver a concentrated doses of vitamin C, retinol, pycnogenol, peptides, hyaluronic acid, collagen or coQ10, depending on the one you pick, all geared towards helping you achieve a healthy and vibrant appearance.
Check out the Azelique brand page here.
Products To Try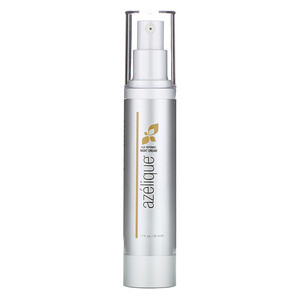 Azelique Age Refining Night Cream with Azelaic Acid
Packed to the brim with azelaic acid, argireline, matrixyl, coQ10, vitamins A, C and E, hyaluronic acid, resveratrol, glycolic acid, caffeine and a blend of botanical extracts like grape seed, green tea, acai and pomegranate, the Azelique Age Refining Night Cream with Azelaic Acid is both effective at minimizing the signs of skin damage caused oxidative free radicals, and deeply moisturizing and rejuvenating at the same time.
This super concentrated night time treatment is packaged in eco-friendly packaging that's certified by the Sustainable Forest Initiative and features an airless pump to prevent oxidation and minimize plastic.
Shop at iHerb Beauty For All Your Beauty and Self-Care Needs
From international beauty brands to our own developed iHerb Brands, iHerb Beauty has all your beauty and self-care needs covered. Give one of our brands a try! We're so confident that you'll love them that we offer a 90-day money back satisfaction guarantee on all our iHerb Brand products. You "sympli" can't go wrong.