Chief Scientific Advisor Dr. Michael Murray Discusses The Power of Vitamin D on The Dr. Oz Show
DISCLAIMER
This blog has not been approved by your local health department and is not intended to provide diagnosis, treatment, or medical advice. Read More

This blog has not been approved by your local health department and is not intended to provide diagnosis, treatment, or medical advice. The content provided on this blog is for informational purposes only. Please consult with a physician or other healthcare professional regarding any medical or health-related diagnosis or treatment options. Information on this blog should not be considered as a substitute for advice from a healthcare professional. The claims made about specific products throughout this blog are not approved to diagnose, treat, cure, or prevent disease.
In this article: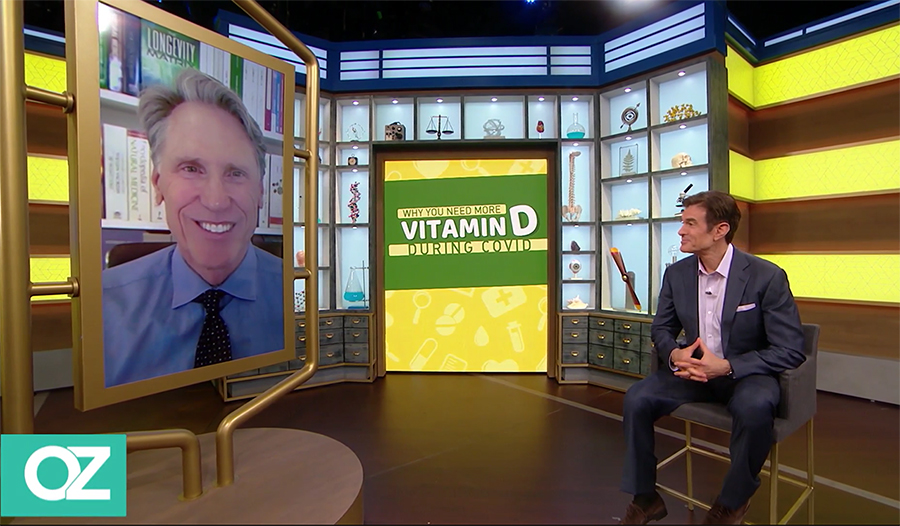 iHerb's Chief Scientific Advisor, Dr. Michael Murray, appeared on The Dr. Oz Show on March 2 to discuss how vitamin D can help support our immune system and help lower our risk of getting sick.
Is There Any Research On Vitamin D and Immunity?
Vitamin D3 is critical to immune function and protection against infections. Considerable scientific shows vitamin D3 reduces the risk of developing a viral respiratory tract infection.1-5,9
In a detailed review published in the prestigious British Medical Journal, results from 25 clinical trials in 11,321 participants of ages ranging from early childhood to subjects in their 90s, vitamin D supplementation reduced the frequency of respiratory tract infections by 70% in those with inadequate vitamin D levels and 25% in those with adequate levels.2
Recent studies in 2020 showed that patients who are deficient in vitamin D are more than twice as likely to get infected as well as experience more serious illness.4,5,8
Is Vitamin D Deficiency Common?
Vitamin D insufficiency is a global public health issue as it affects more than 50% of the world's population.6 The prevalence of patients with vitamin D deficiency is highest in the elderly, obese patients, nursing home residents, and hospitalized patients. It is particularly widespread in the United States as studies have shown that almost 50% of the U.S. population have inadequate blood levels of vitamin D including 49% of nursing home residents.7,10,11
Where Can We Get Vitamin D3?
While vitamin D3 can be found in foods like fish, eggs, milk, and dairy products, the truth is that the levels in food are not sufficient to meet our needs. And even though D3 production is activated when our skin is exposed to strong, direct sunlight, it is highly variable. In real life, the best way to make sure you are getting enough D3 is by taking a vitamin D3 supplement.
What Should People Look For In Vitamin D Supplements?
The key is to look for products labeled to contain vitamin D3 (cholecalciferol). This form can be more active than another supplemental form, vitamin D2. The dosage range for vitamin D3 is most accurately based on blood measurements with a target range of 50 to 80 ng/ml. This generally requires a daily dosage in the range of 1,000 to 5,000 IU.
Learn More
Watch the full segment here.
References:
Pham H, Rahman A, Majidi A, Waterhouse M, Neale RE. Acute Respiratory Tract Infection and 25-Hydroxyvitamin D Concentration: A Systematic Review and Meta-Analysis. Int J Environ Res Public Health. 2019;16(17):3020.
Martineau Adrian R, Jolliffe David A, Hooper Richard L, Greenberg Lauren, Aloia John F, Bergman Peter et al. Vitamin D supplementation to prevent acute respiratory tract infections: systematic review and meta-analysis of individual participant data BMJ 2017; 356 :i6583
Ginde AA, Blatchford P, Breese K, et al. High-Dose Monthly Vitamin D for Prevention of Acute Respiratory Infection in Older Long-Term Care Residents: A Randomized Clinical Trial. J Am Geriatr Soc. 2017;65(3):496-503. doi:10.1111/jgs.14679
Griffin G, Hewison M, Hopkin J, et al. Vitamin D and COVID-19: evidence and recommendations for supplementation. R Soc Open Sci. 2020 Dec 1;7(12):201912.
De Smet D, De Smet K, Herroelen P, Gryspeerdt S, Martens GA. Serum 25(OH)D Level on Hospital Admission Associated With COVID-19 Stage and Mortality. Am J Clin Pathol. 2021 Feb 11;155(3):381-388.
Sizar O, Khare S, Goyal A, Bansal P, Givler A. Vitamin D Deficiency. StatPearls, see https://www.ncbi.nlm.nih.gov/books/NBK532266/
Parva NR, Tadepalli S, Singh P, et al. Prevalence of Vitamin D Deficiency and Associated Risk Factors in the US Population (2011-2012). Cureus. 2018 Jun 5;10(6):e2741.