3 Satisfying Stew Recipes to Help You Detox for the New Year
DISCLAIMER
This blog does not intend to provide diagnosis... Read More

This blog does not intend to provide diagnosis, treatment, or medical advice. Read more. The content provided on this blog is for informational purposes only. Please consult with a physician or other healthcare professional regarding any medical or health-related diagnosis or treatment options. Information on this blog should not be considered as a substitute for advice from a healthcare professional. The claims made about specific products throughout this blog are not approved to diagnose, treat, cure, or prevent disease.
In this article: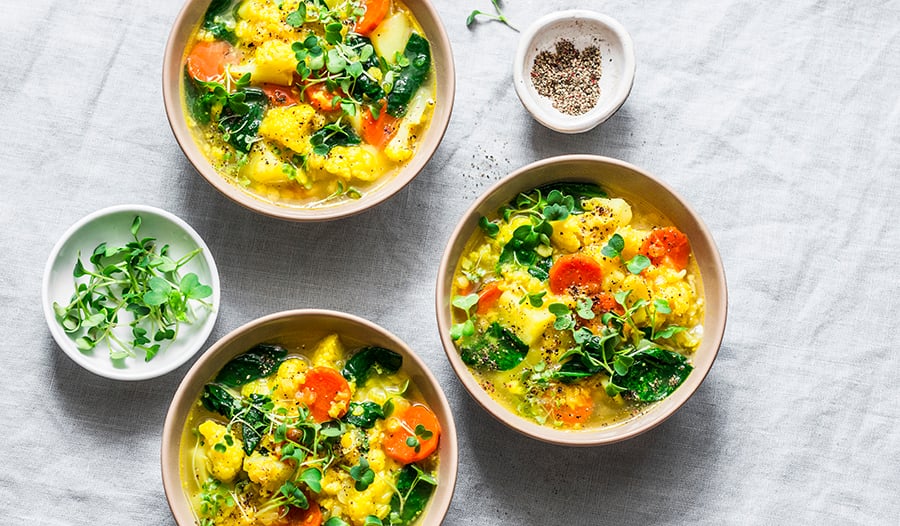 A short-term detox meal plan provides an opportunity to mentally and physically reset after a period of overindulgence during the holiday season. It can be a way to transition into healthier habits, and anecdotal evidence suggests that many individuals may notice improvements in energy levels after a short detox. Detoxing may reduce cravings for sugary foods, and some clinicians believe that detoxing can enhance immune system health.
Homemade recipes for detox meals are often more sustainable, satisfying, and budget-friendly than pre-packaged options. The following stew recipes are full of flavorful bone broth and plenty of spices and are quick to make for a meal on a busy weeknight. These recipes also freeze well and can be quickly reheated.
Spicy Lentil Stew Recipe
This gluten-free recipe is wonderfully aromatic thanks to the addition of spices such as turmeric, paprika, cinnamon, and nutmeg. While the lentils add protein, green vegetables like spinach and kale add some healthy vitamins. At just under 300 calories per 1.25 cup serving, this stew can be used for a quick snack or a light meal during a detox period. This recipe serves six to eight.
Ingredients:
2 cups finely chopped white onions
1/2 cup chopped carrots
1 Tbs. fresh minced garlic
2 tsp. cumin
2 tsp. turmeric
2 tsp. paprika
2 tsp. salt
1 tsp. cinnamon
1/4 tsp. nutmeg
6 cups vegetable or bone broth (2 cups reserved for the end)
15 ounces of diced tomatoes
3 cups peeled and cubed sweet potatoes
2 cups rinsed lentils
1/2 cup lemon juice
4 cups of spinach or kale (or a mixture of both)
1 cup chopped cilantro (1/2 cup for the stew and 1/2 cup for optional garnish)
Instructions:
Heat the oil in a stockpot over medium heat until it begins to shine. Then, add the carrots and onions. Cook these for five minutes, stirring occasionally.
Add the garlic clove to the mixture and saute this for one minute. Stir constantly.
Add the cumin, turmeric, paprika, cinnamon, and nutmeg. Stir these for an additional minute to let the flavors blend and intensify.
Pour in the diced tomatoes and four cups of the vegetable or bone broth, and add the sweet potatoes and rinsed lentils. Cover the pot completely with a lid, and bring the stew to a boil.
Once boiling, reduce the heat to low and allow the stew to simmer for approximately 45 minutes with the lid completely on. Stir the pot every 10 minutes to keep the stew from burning.
At the 40-minute mark, check the consistency of the stew. If it is too thick, add the remaining two cups of vegetable or bone broth. Next, add small bunches of the spinach and kale mixture to the stew, gradually stirring it in until it becomes wilted.
Finally, stir in the lemon juice and 1/2 cup of chopped cilantro if desired. Spoon the stew into bowls, and garnish with additional cilantro.
Slow Cooker Beef and Bone Broth Stew Recipe
Beef bones and bone broth are good sources of collagen. Research suggests that collagen could help repair the stomach lining and reduce inflammation of the intestines. Additional studies suggest that bone broth could help in maintaining joint health and in fighting osteoporosis. Bone broth is high in a nutrient called glutathione, and some nutritionists and dieticians have found that this nutrient could help boost the metabolism and support the health of the immune system. This bone broth stew with beef is a hearty option for a detox program. If beef is not available, this recipe could be made with chicken or turkey. This recipe serves six.
Ingredients:
1 lb. beef, chicken, or turkey cut into chunks
2 to 4 beef, chicken, or turkey bones
4 carrots, peeled and sliced
4 white or sweet potatoes, peeled and cubed
4 turnips or parsnips, cut into chunks
2 white or Vidalia onions, peeled and chopped
4 garlic cloves (or equivalent in garlic powder)
1/3 cup dried parsley
1 tsp. ground ginger
1 cup spinach or kale
Juice of 1 lemon, freshly squeezed (optional)
Sea salt and freshly cracked black pepper to taste
Instructions:
In a large pot, bring 1 1/2 quarts of water to a boil on the stovetop. Once the water is boiling, remove the pot from the heat and pour water into the slow cooker. Add the beef, chicken, or turkey bones to the water in the slow cooker before securing the lid on top. Cook the bones in the slow cooker on low heat for a minimum of 12 hours or overnight.
After at least 12 hours, remove the lid from the slow cooker, and take out the cooked bones. Remove any unwanted fat or pieces of meat.
Return the cleaned bones to the slow cooker, and add the pound of beef, chicken, or turkey. Continue by adding parsley, garlic, salt, and pepper. After replacing the lid on the slow cooker, cook the mixture for three to four hours on low to medium heat.
After three or four hours, remove the lid. Add all remaining ingredients (except the spinach or kale and lemon juice). Stir together, replace the lid, and cook for an additional hour at the same heat setting or until vegetables are tender.
Once the vegetables are tender, stir in the lemon juice and spinach or kale mixture. Allow the greens to wilt for roughly 30 minutes before serving.
Spoon into bowls, serve warm, and enjoy. This stew is ideal when accompanied by a green salad. It can be served over rice, quinoa, or a baked potato.
Light Vegetable Stew Recipe
This light stew is filling due to an abundance of vegetables, including zucchini, yellow squash, and tomatoes. Tomatoes are rich in lycopene, a nutrient that may reduce the risk of heart disease. Studies show that lycopene is associated with reductions in cholesterol readings, waist circumference, and levels of pro-inflammatory adipokines. This soup makes an ideal between-meal snack, and it could even be enjoyed as a guilt-free, late-night meal. If some of the listed vegetables are not available, substitute as necessary. This soup is very adaptable. This recipe makes eight generous servings.
Ingredients:
4 cups vegetable broth
1 large zucchini, trimmed and cut into chunks or cubes
1 large yellow squash, trimmed and cut into chunks or cubes
1 white or yellow onion, peeled and diced
A 15-ounce jar of diced tomatoes
1 tsp. salt
1 cup frozen peas
1 lb. cabbage, chopped
1 lb. frozen green beans (optional)
1 lb. frozen, sliced okra (optional)
1 cup carrots, chopped
2 cloves garlic, chopped
Juice of 1 lemon, freshly squeezed
Italian seasoning to taste
1-2 cups water; adjust as needed to thin the consistency of the soup broth
Instructions:
Place all ingredients in a pot, and stir to combine.
After bringing the pot to a boil, quickly reduce it to a simmer. Cook on medium heat for two hours or until all the vegetables are tender.
Spoon the stew into bowls, and top with additional herbs if desired. Serve with a green salad, and enjoy.