How to Make Healthy and Delicious Baked Oats
DISCLAIMER
This blog does not intend to provide diagnosis... Read More

This blog does not intend to provide diagnosis, treatment, or medical advice. Read more. The content provided on this blog is for informational purposes only. Please consult with a physician or other healthcare professional regarding any medical or health-related diagnosis or treatment options. Information on this blog should not be considered as a substitute for advice from a healthcare professional. The claims made about specific products throughout this blog are not approved to diagnose, treat, cure, or prevent disease.
In this article: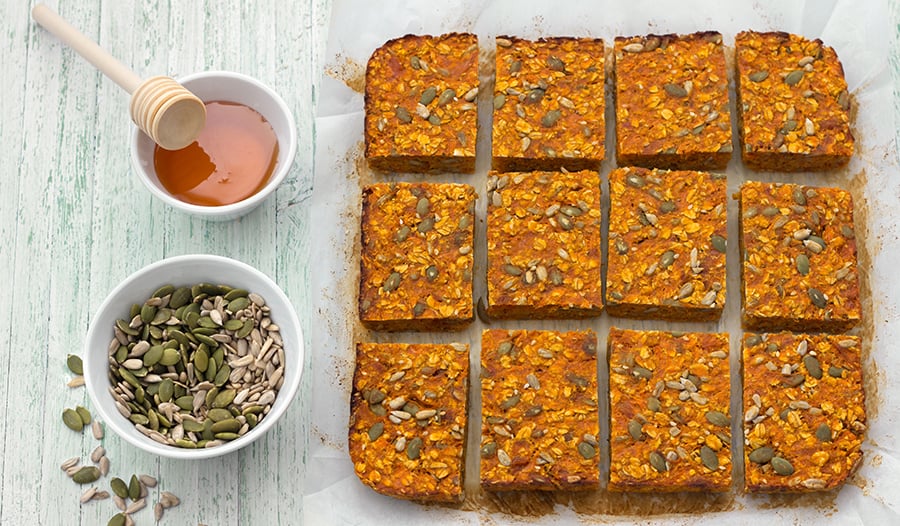 There are all sorts of benefits to making baked oats, including convenience, flavor and health.
By baking oats instead of boiling them you end up with a delicious treat rich in flavor that is healthier than processed granolas and cereals. Baked oats are a fast and easy breakfast that is sure to satisfy the whole family.
Enjoy a Quick and Convenient Baked Oats Breakfast or Snack
One of the big reasons that baked oats are so popular is because it is one of the most convenient breakfast options. Instead of having to monitor a simmering pot or remember to whip up a batch of overnight oats the day before, all a home chef has to do is mix up the ingredients, throw them in the oven and come back to a tasty meal in half an hour.
Those who do not have time to make baked oats in the morning can actually make this delicious meal far in advance. It freezes well and can be made in big batches, cut into servings, and put into the freezer. Unlike some other types of frozen breakfast foods, baked oats are quick and easy to reheat. All a person has to do is sprinkle the top with a tablespoon of water, toss it in the microwave for a minute and enjoy.
Baked oats are also incredibly versatile. A big scoop of warm baked oats with a glass of milk is a satisfying breakfast, and a cooled slice of baked oats can be a tasty snack later in the day. Since baked oats are so soft and easy to digest, many people like baking them in mini muffin tins to turn them into a healthy homemade baby food or toddler snacks. Another deliciously versatile way of preparing baked oats is to slice them, chill them and fry them. This results in a crispy exterior and a soft, melty middle.
Get All the Health Benefits Associated With Eating Oats
Baked oats are an excellent breakfast option because oats are associated with so many important health benefits. People who eat them get a nicely balanced blend of carbs and fiber along with more protein than most other grains. Having a homemade breakfast rich in oats and free of preservatives or excessive amounts of sugar helps people start their day out with a healthy choice.
Since oats are high in fiber and low in fat, they are a great choice for people trying to maintain a healthy weight. The fiber can help sustain a full feeling for longer because it takes longer to digest, and thus may help prevent constant cravings for snacks before lunch. Though baked oats are very satisfying, they are still fairly low in calories.
One of the biggest health benefits of oats is that they are a great source of beta-glucan. This is a form of soluble fiber that moves through the gut in a gel-like form without actually being digested. Since fiber helps pass things through the gastrointestinal tract and aid in digestion, it has many health advantages. Research has linked soluble fiber intake to better cholesterol levels, lowered blood sugar and increased insulin sensitivity. Higher fiber intake may also prevent constipation and make it easier to have bowel movements.
Families who use baked oats as a form of early baby food may also get some additional advantages. Some research from 2010 found that an early introduction of oats was associated with a reduced chance of developing persistent asthma at later ages. This seems to be linked to the anti-inflammatory effects of oats.
Another good thing about oats is that they contain a type of antioxidant called avenanthramides. These antioxidants are a type of protective compound that is usually only found in oats. It dilates blood vessels, increasing blood flow throughout the body. Antioxidants are typically useful because they protect cells from free radicals that can cause damage and inflammation throughout the body. Avenanthramides also have an anti-itching effect, which is why oats are so often used in eczema lotions and anti-itch creams.
Basic Baked Oatmeal for Beginners
There are all sorts of ways to create baked oats, but they all use the same simple base. Whether a cook plans on doing a banana nut bread oatmeal or a cinnamon and apple one, they will end up using the same basic proportions of oats, liquid, and sweetener. Here is a standard baked oats recipe guide that is perfect on its own and very easy to alter when cooks want to mix things up a little. Keep in mind that this recipe is only mildly sweet, so those with a major sweet tooth may want to add in a little more natural sweeteners such as honey, agave nectar, or even Stevia.
Ingredients:
Instructions:
Preheat the oven to 350 degrees Fahrenheit. Prepare a 10-inch baking pan by lining it with parchment paper or greasing it with cooking spray.
Blend together the oil, almond milk and eggs in a small bowl until thoroughly combined.
Stir the oats, sugar, salt, baking powder and cinnamon together in a large bowl.
Pour the bowl of liquid ingredients into the larger mixing bowl with the dry ingredients and stir everything together until thoroughly combined.
Gently spread the oat mixture into the pan.
Bake the baked oats until the top is brown and crisp while the interior is still moist. This will take about 30 minutes.
Allow the baked oats to cool on the counter for 10 minutes before cutting into servings. They can be eaten right away or frozen and reheated for a quick breakfast.
Enjoy plain or drizzle with a little maple syrup or cream before eating.
Customize Your Baked Oats Recipes
Once a cook has the basic recipe down, it is easy to personalize it by adding favorite flavorings. Simple and easy mix-ins include things like spices, dried coconut, chocolate, or nuts. Of course, the biggest way to change up the taste and make baked oats even tastier is with dried or fresh fruit. Just keep in mind that dried fruit soaks up liquid while fresh fruit adds liquid. Therefore, cooks will need to add an extra quarter cup of milk when using a dried fruit mix-in and remove a tablespoon of milk when using fresh fruit mix-ins.
Mix-ins often sink to the bottom when making baked oats. Some people like this because they end up with a sweet, gooey layer on the bottom. However, those who want to avoid it can just lightly toss their mix-ins with a tablespoon of flour before stirring them in to avoid the issue. Here are a few absolutely delicious flavor combinations to consider:
Berry Boost Baked Oats
Toss in a blend of favorite fresh berries like strawberries, raspberries, blackberries and more for a boost of antioxidants. Add a little honey for extra sweetness.
Peaches and Cream Baked Oats
Add slices of fresh or frozen peaches and a little extra cinnamon in the oats before cooking, and then a dollop of Greek yogurt on top right before serving.
Pumpkin spice Baked Oats
To get the signature pumpkin spice flavor, add a quarter cup of pumpkin puree along with a half teaspoon of ginger, a quarter teaspoon of nutmeg and an extra teaspoon of cinnamon.
Banana Nut Bread Baked Oats
A few sliced bananas and handfuls of crushed nuts add plenty of texture and flavor to baked oatmeal.
Chocolate Peanut Butter Baked Oats
A quarter cup of peanut butter and a quarter cup of cacao powder make a rich baked oatmeal that tastes almost like candy.
Coconut Blueberry Baked Oats
Toss some dried blueberries and coconut flakes into baked oats to add a lightly tropical flavor to the oats.
Apple Pie Baked Oats
Slice several apples and arrange them on the bottom of the pan, or dice the apples into small pieces to stir into the oatmeal. Raisins and nuts would make a good complement to the apple and cinnamon flavors.