Quick and Easy Vegetarian Chili Recipe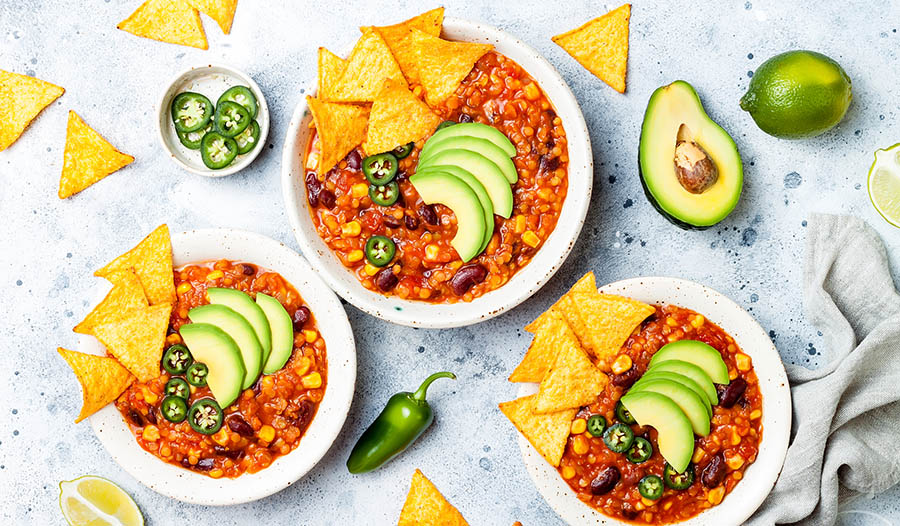 Vegetarian chili is a wholesome, nutritious meal that is loaded with plant-based protein, fiber, zinc, iron, magnesium, and other essentials. It is also very low in fat and contains zero cholesterol. Check out this vegetarian chili recipe that is sure to become a family favorite.
Simple and Delicious Vegetarian Chili Recipe
Ingredients:
Instructions:
Take out a large cooking pot. Heat the oil in the pot over a medium-high heat setting. Once the oil is hot, add the jackfruit and onions to the pot. Frequently stir the ingredients approximately three minutes so that they are evenly sautéed.

Reduce the stovetop heat to medium and then add the bell pepper, tomato paste, and jalapeno into the pot. Stir all of the ingredients together and continue cooking for an additional five minutes or until the onions and veggies begin to soften. While cooking, break the jackfruit up into smaller pieces.

Add the drained black beans, diced tomatoes, vegetable broth, chili powder, apple cider vinegar, paprika powder, chipotle seasoning, and ground coriander to the pot. Continue stirring the ingredients until they reach a boiling point.

Lower the stovetop heat to medium-low and then let the ingredients simmer for 10 minutes while covered. Be sure to stir the chili mixture frequently to prevent the ingredients from burning or sticking to the bottom of the pot.

Once the vegetarian chili has finished simmering and the ingredients are done, add the sea salt into the pot. Stir the ingredients together.

Divide the chili into four large serving bowls. Top each bowl of chili with shredded or grated vegan cheese.

Once the cheese has slightly melted over the top of the chili, begin eating and enjoying this delicious vegetarian meal.